'Tis the season for gift giving, and if you know someone who is a fan of Saratoga Race Course, equestrian sports, or just likes horses, then you should get them a horse-themed gift this year. Luckily for you, many of these types of gifts are available right in Saratoga Springs and can be bought in-store or online. Here are 8 of the season's best gifts for the horse lover in your life!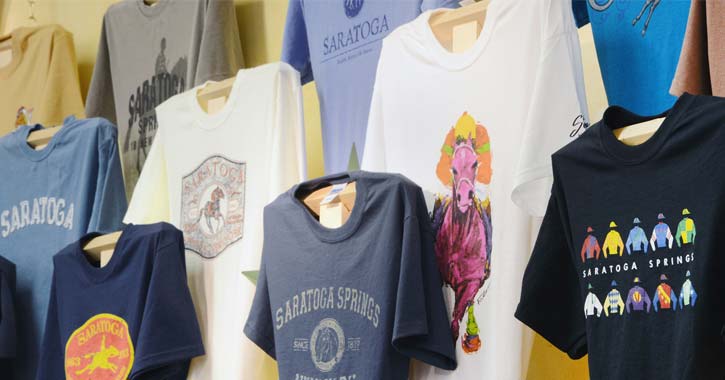 Now here's a gift for someone who loves both Saratoga Springs and horses – a Vintage Issue Tee found exclusively at Impressions of Saratoga. Situated in the top row in the above photo, this comfy shirt has an image of the store's vintage horse logo, the word "Saratoga," and the city's slogan "Health, History, and Horses."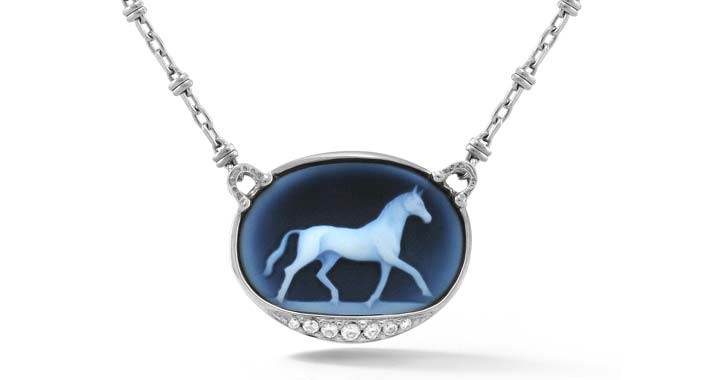 Make this holiday season extra special for someone close to you, such as your significant other, by buying them a gift from deJonghe's Equestrian Jewelry Collection. Each piece from their collection has a distinct creative design that captures the spirit of horse racing and the equestrian lifestyle. Consider the Equestrian Cameo Pendant, pictured above, or another item that catches your eye.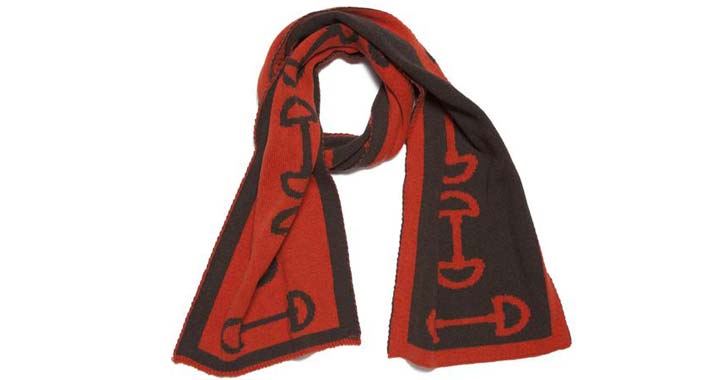 The National Museum of Racing & Hall of Fame's Gift Shop carries numerous horse-themed items ranging from clothing to books, jewelry, and more. One of the shop's most unique items is their Horse Bit Scarf, which will keep your gift recipient warm, cozy, and stylish throughout the winter season.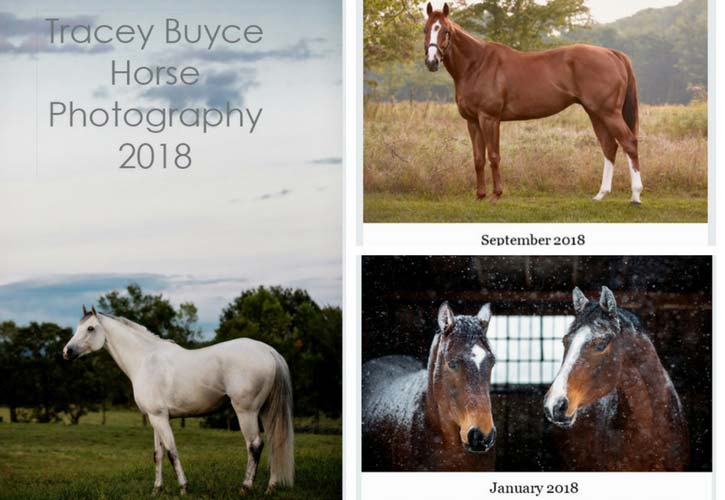 Created by local horse and wedding photographer Tracey Buyce, this 2018 Fine Art Horse Calendar features stunning portraits of retired racehorses. Not only is it the perfect gift for Saratoga horse and Track lovers, but 100% of the proceeds from each calendar sale will go to the New Vocations Racehorse Adoption Program. In addition, there is free shipping for online orders (place them by December 15, 2017 to ensure Christmas delivery).
Buyce has been volunteering for New Vocations' NY Branch in Ballston Spa, and she photographs retired racehorses to help them get adopted. Give away this special gift during the holiday season, and support a wonderful cause!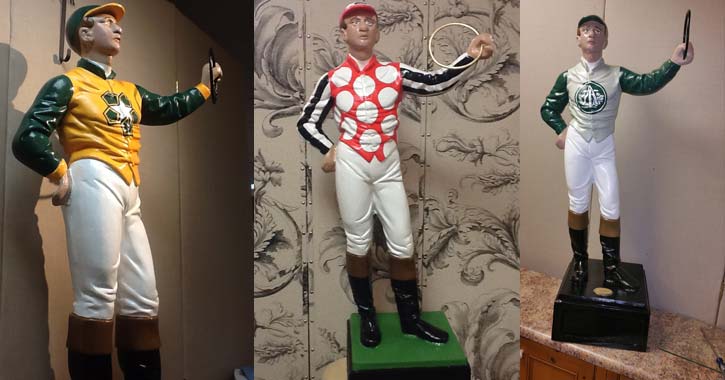 When you visit Saratoga Race Course, one of the most recognizable sights is the collection of painted lawn jockeys near the entrance. Give the gift of a custom-painted lawn jockey statue from Saratoga Signature Interiors this year. Each one is 100% aluminum so they can stay outside, and they can be painted with the colors you want to see.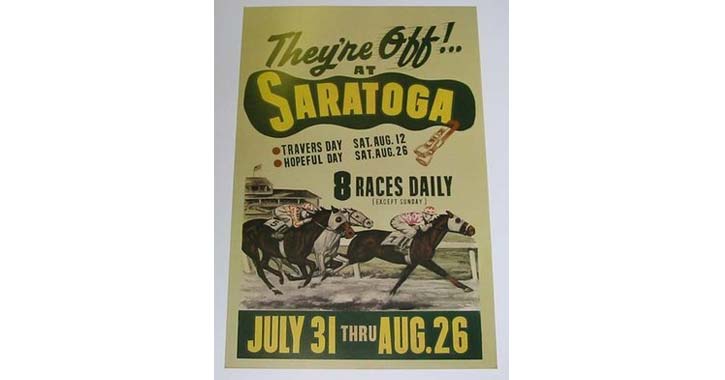 Based in downtown Saratoga, Crafters Gallery is home to unique Saratoga and horse racing gifts you won't find anywhere else. They sell many historic prints that have been reproduced using high-quality paper, including "They're Off! at Saratoga." This particular print recalls the history of Saratoga Race Course and is a must-have item for fans of the Track.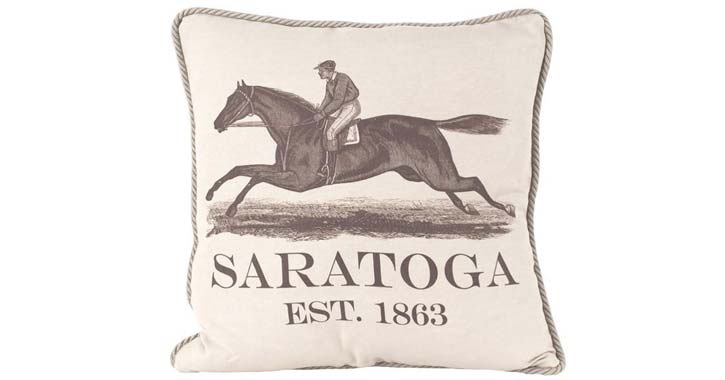 Get the horse lover in your family an Equestrian Lifestyle Pillow from Saratoga Saddlery & International Boutiques. Depending on their interests, you can choose between four different pillow themes: Polo, Saratoga Racing, Horse and Hounds, and Boots and Bits. This pillow would be a welcome addition to one's home.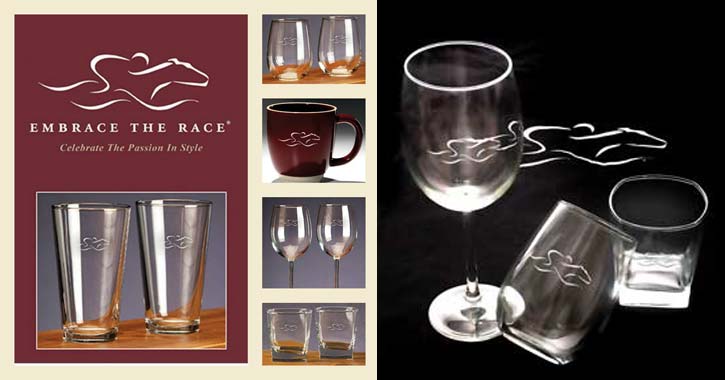 EMBRACE THE RACE® offers a wide array of horse racing apparel and products, but one of their most popular is their collection of decorated drinkware. Is there someone on your list who would enjoy using a horse racing-themed glass or mug? If so, then there are plenty of options to choose from, including a copper mule mug, stemless wine glasses, and more.
Bonus Saratoga Gifts:
Why get someone just a horse-themed gift when you can also buy them a gift that will remind them of the Spa City. Here are a few great Saratoga-themed items to consider for the holidays: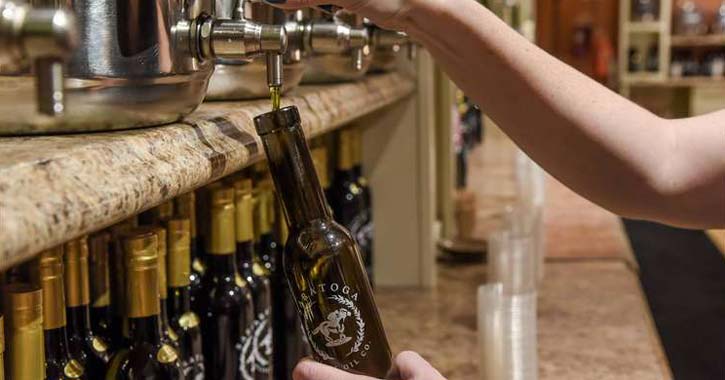 Saratoga Springs' own Saratoga Olive Oil Co. has been listed as one of the top five stores in the world for their olive oil selection, and a bottle or two would be a great gift for the foodie on your holiday gift list. You can even pair the olive oil with one of their balsamic vinegars.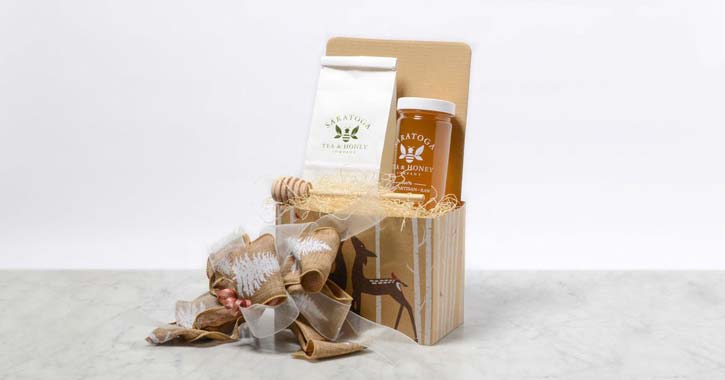 Based in downtown Saratoga, Saratoga Tea & Honey Co. sells organic & fine tea and herbal infusions, local raw honeys, and more. For that special tea lover in your life, give them one of these small gift baskets filled with a bag of tea, a jar of honey, and a classic round wooden honey dipper.
The Peppermint Pig™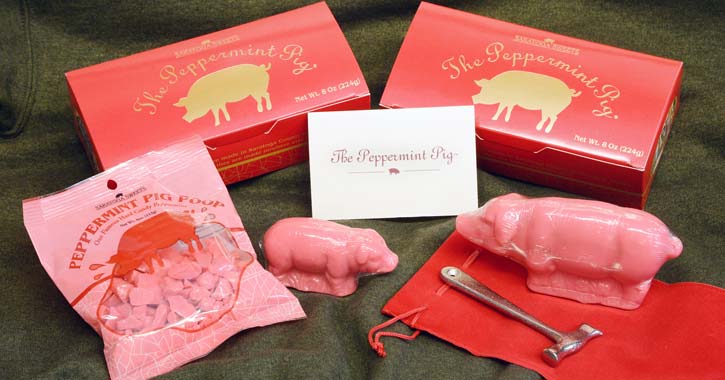 The Victorian-era candy makers of 1880s Saratoga Springs began a holiday tradition of creating the soon-to-be famous Peppermint Pig™. Today, that tradition is carried on at the Saratoga Sweets Candy Co. in downtown Saratoga, and the sweet treat is sold at their candy shop, Impressions of Saratoga, Crafters Gallery, and other stores. Give away one of these unique treats this holiday season!
Find even more great holiday gift ideas from around the region >>