Whether you're a fan of horse racing or horses in general, you won't want to miss out on the National Museum of Racing and Hall of Fame's latest project – Foal Patrol! This one-of-a-kind collection of live web cameras allows visitors to watch real-time streams of several in-foal mares during their pregnancy and through the actual foaling. It's a rare opportunity to get to know these magnificent animals up close and personal!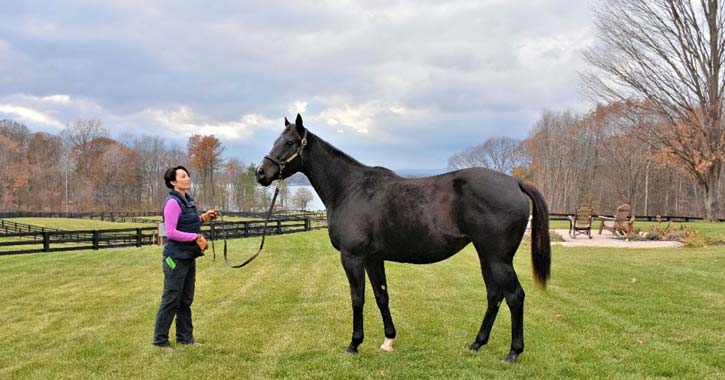 What Is Foal Patrol?
Foal Patrol is a website and an innovative project that has recently been launched by the National Museum of Racing and Hall of Fame in Saratoga Springs, NY. Developed in collaboration with other teams and organizations within the racing industry, the project features live camera feeds of in-foal thoroughbred mares from around the U.S.
In a press release, it was noted that Museum President John Hendrickson and his wife, philanthropist and thoroughbred owner Marylou Whitney, created the concept of Foal Patrol and are underwriting most of the project.
For them, Foal Patrol is a special way for horse racing fans and enthusiasts to gain insight into a thoroughbred's life and learn more about them through foaling and beyond.
How Does It Work?
The live camera feeds of the in-foal mares launched on December 19th on www.foalpatrol.com. The live web cameras will run daily from 7:00am-5:00pm EST with extended hours as the expected foaling date approaches.
Access to the live web cameras is free, and the website has been optimized for viewing on all types of media platforms, including smartphones and tablets.
There are currently five in-foal mares to choose from on the website, and each one includes a live camera feed, a biography of the horse's history, and their expected foaling date. Here are the five horses:
Sabbatical at Claiborne Farm in Paris, KY – Expected foaling date is 1/28/2018
Stopchargingmaria at Three Chimneys Farm in Versailles, KY – Expected foaling date is 2/2/2018
Centre Court at Shawnee Farm in Harrodsburg, KY – Expected foaling date is 2/19/2018
La Verdad at Edition Farm in Hyde Park, NY – Expected foaling date is 3/15/2018
Memento d'Oro at Old Tavern Farm in Saratoga Springs, NY – Expected foaling date is 3/31/2018
In addition to those five, three more mares are scheduled to be added to Foal Patrol in March 2018: Via Veneto, Bird Town, and Arravale.
Visitors to the Foal Patrol website can watch the live camera feeds, sign up for alerts when there is notable activity, and participate in various contests when they are offered. Several prize packages will be featured, including Hendrickson and Whitney's box seats for the 2018 Kentucky Derby and Kentucky Oaks as the grand prize.
Experience Foal Patrol for yourself and visit the website today!