The New York Racing Association is thrilled to welcome fans back to Saratoga Race Course for the 2021 summer meet. There are plenty of events lined up for this year's Runhappy Opening Weekend which runs from July 15 through July 18.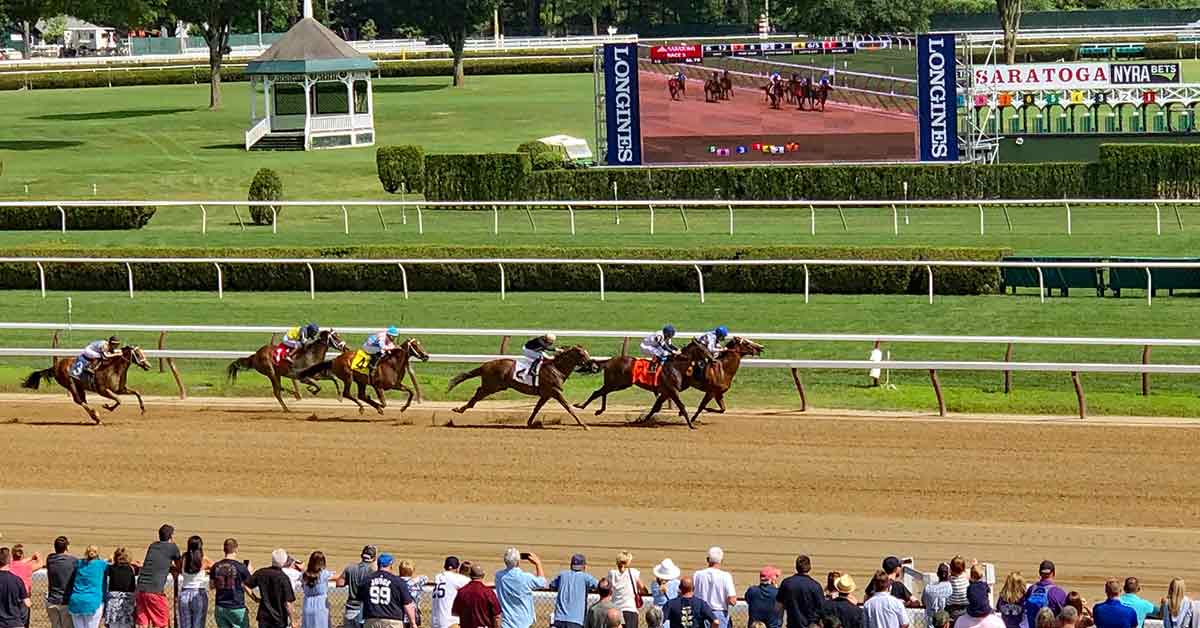 Opening Day Presented by Runhappy: Thursday, July 15
Saratoga Race Course will welcome fans back to the track during Runhappy Opening Weekend, kicking off July 15. Gates will open at 11am and the post time for the first race is at 1:05pm. Fans who provide proof of vaccination via the New York State Excelsior Pass will receive free Grandstand general admission.
The day-long celebration will include live music from Soul Session and Racing City Chorus. Tenor Angelo Mazzone Jr. will sing the National Anthem.
Fans will be encouraged to raise a glass of Moët and Chandon and toast with the rest of Saratoga spectators to the 2021 racing season.
Health Care Heroes and First Responders Day, Presented by CDPHP: Friday, July 16
NYRA recognizes the contributions made by health care workers and first responders during the Covid-19 pandemic by honoring them with free Grandstand admission with proper ID. The afternoon will include a trackside performance by the New York State Police Pipes and Drums.
Additionally, the track will welcome doctors, nurses, nurse practitioners, physician assistants, and vaccine site workers to the winner's circle for a race named in their honor. Police officers, firefighters, EMTs, and paramedics will also receive recognition in the winner's circle for a race of their own.
Fashion Contest: Saturday, July 17
This new fashion contest will crown winners in categories for Best Hat, Best Dressed Woman, and Best Dressed Man. The event will run from 1-3pm at the Whispering Angel Rosé display near the Travers Bar, presented by Moët Hennessy. Fans 21 and up will enjoy complimentary samples of Chateau d'Esclans Whispering Angel Rosé, while supplies last.
NYRA will also recognize the winners of the Celebrate Saratoga! window decorating contest held in partnership with the Saratoga Downtown Business Association. Judges will observe more than a dozen participating downtown locations that decked out their storefront windows with racing-themed designs. Participating businesses include Celtic Treasures, Complexions Spa, Crafters Gallery, G. Willikers, Holiday Inn Saratoga Springs, Impressions of Saratoga, Lifestyles of Saratoga, Saratoga Dance, Saratoga National Bank, Saratoga Saddlery, Saratoga Tea and Honey, Spoken Boutique, Tailgate and Party, The Dark Horse Mercantile and Walt and Whitman Brewing.
Berkshire Bank Family Sundays: Sunday, July 18
Berkshire Bank Family Sundays will feature a wide variety of free family-friendly activities each Sunday at the Berkshire Bank Family Zone located inside Gate A.
Features of the playground include a complimentary phone charging station, courtesy of Berkshire Bank, a giant Adirondack-style chair designed for a photo op, and a running track complete with a miniature replica starting gate for kids to race their friends.
All attending fans will also enjoy an encore performance from Soul Session at the Volcan Tequila Summer Music Stage.
Grandstand admission is $7 per person and Clubhouse admission is $10 per person.
Fans who are vaccinated may choose not to wear a facial covering while unvaccinated fans will be required to wear a facial covering during their day at the track per CDC guidance.