Saratoga Racetrack For Kids
Editor's Note (4/15/21): New York State has announced that spectators will be allowed to attend horse races at a limited capacity and with other protective measures in place. The New York Racing Association (NYRA) is reviewing the guidelines and once they release details about fan attendance and tickets, we will update the features below accordingly.
There is no doubt that the track is a fun place for adults, but did you know there are all kinds of things at the races for kids to enjoy, too? Discover these top 10 things to do with kids at Saratoga Racetrack, and they might just grow to love the track even more than you do!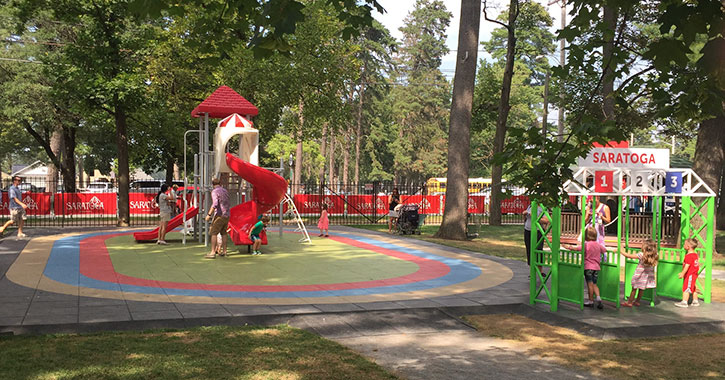 1. Family Sundays
In a typical track season, Saratoga Racetrack holds Berkshire Bank Family Sundays, which have featured special highlights, including games, attractions, and educational activities in the past. Sundays have traditionally had "kids" written all over them! The weekly family festivities are usually held at the Coca-Cola Saratoga Pavilion, located inside Gate A (Union Avenue) and to the left from 11 am to 5 pm. Additional family fun can typically be found in the smoke- and alcohol-free Berkshire Bank Family Zone.
2. Morning Workouts
*Please note, there was no breakfast at the track and no spectators allowed at morning workouts in 2020. Stay tuned for 2021 updates.
No less part of the tradition at Saratoga is watching the horses train at their morning workouts at the track. When spectators are allowed at the track, bring your kids to watch the stunning horses get in shape in the early morning hours. It's traditionally free to enter the track at that time, and you can get reimbursed for parking as long as you leave before 10 am. While you're there, why not add on Breakfast at the Track? Breakfast opens at 7 am in normal years. If you'd rather do it on the cheap, tote breakfast along with you, and enjoy a picnic!
3. Horses Up Close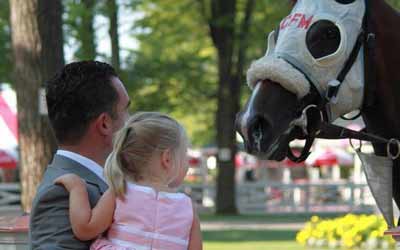 Get so close you can practically touch the horses before each race! When spectators are allowed at the track, take your kids to see the horses as they strut through the paddock and down the fenced horse path prior to each race. Pick out your favorites and see these equine competitors walk single file down to the races, accompanied by their jockeys. This is a memory that will likely stick with them forever.
4. Fun Fashion
With the long-lasting and vibrant racing culture in Saratoga, don't be surprised to see some fantastical fashion choices while exploring the track once spectators are allowed. Think giant hats, colorful gowns, and bowties galore! Whether taking the time to people-watch, dance to the big band music, or dress to the nines in vintage-inspired attire, kids (and parents) will love stepping back in time for a day at the track.
5. Trackside
Even though the full concept of the horse race might be foreign to them, your kids will get swept up in the excitement just like everyone else (once spectators are allowed at the track) when you take them trackside while a race is in progress! The crowds cheering, fans clinging to the fence in hopes for a better view, people getting louder as the horses draw near the finish line -- let them take it all in and enjoy the races from the front lines! Even if you don't wager on the race, have them pick a number to cheer for so they feel a part of the action and excitement. As the horses round the final curve, your child can even get a glimpse of the powerful blurs catapulting their riders at heart-racing speeds across the finish line.
6. Browse the Tents
In a typical year, you'll find merchants selling their wares in tents at the track. Everywhere, there are horse paintings, racing memorabilia, hats, sundresses, and other track-themed merchandise. But even more, there are plenty of things for kids to do. Some tents have jockey garb for kids to dress up in, or let little ones "feed a horse" or even "ride" one (pretend horses, of course). You never know what you'll find, so just explore!
7. Playground
The racetrack has a great playground for kids, called the Berkshire Bank Family Zone. When they eventually tire of the excitement and horses, they'll still love to climb, slide, hide, and have fun as kids do! The smoke- and alcohol-free Berkshire Bank Family Zone is located inside Gate A and to the left.
8. Track Treats
When spectators are able to return to the track and vendors are allowed to open, let your kids choose an ice cream treat -- or better yet, Italian ice -- to keep cool while at the track. There's also typically an annual Stewart's Ice Cream Eating Contest, which is so fun for kids! Popcorn, cotton candy, soda -- the track is full of treats you can say "yes" to just for today. Let them customize a hot dog at the hot dog stand. These may seem like simple things, but to a kid, these are memories in the making!
9. Tractors
Watch the tractors groom the track once spectators are allowed! Most kids love to see a big machine, and the only thing better than seeing one is seeing one in action. This is a great time to explain how the different racing surfaces can affect the performance of the horses. Show them in the books how different horses perform on turf, dirt, mud, etc. and let them watch the tractors at work.
10. Big Red Spring
When spectators are allowed inside the gates, take your kids to visit the Big Red Spring at the track! One of the biggest draws of Saratoga is its natural spring water, and the Big Red Spring at Saratoga Racetrack has it bubbling abundantly for track goers to sample. While most children are usually surprised and rather disgusted by the taste, it is an experience they won't forget, and a reaction you'll want to cherish (and record!) to laugh about in years to come.
There you have it, our top 10 picks for the best things to do with your kids at Saratoga Racetrack! Oh yeah, and be sure to keep your eyes open while at the track because it's also an ideal place for spotting famous celebrities. You just might see a star from your kids' film favorites!
Need more ideas for things to do? View upcoming events in Saratoga »