Just weeks after the Saratoga Casino Hotel donated a large sum to the Ronald McDonald House Charities the Saratoga hot spot made another awesome donation, this time to an organization that supports those affected by breast cancer.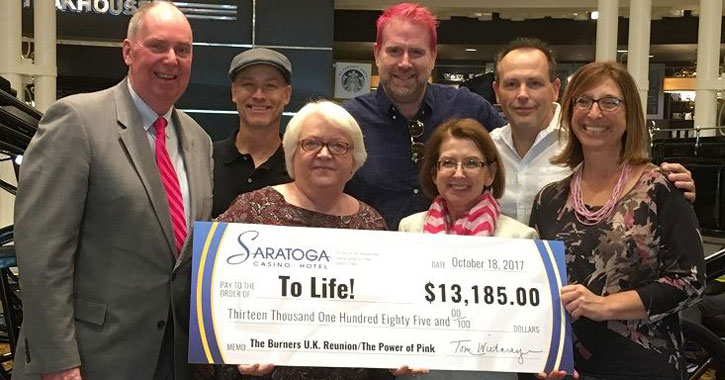 Funds Raised at Vapor Concert
Last week, Saratoga Casino Hotel presented To Life! with a check for $13,185. The donation came from funds raised at a sold-out reunion show of The Burners U.K. who performed at Vapor on October 13th; the group had previously not performed together since 2013.
A portion of ticket sales, as well as proceeds collected from a live auction that evening, went towards the donation.
With October being Breast Cancer Awareness Month, this donation comes at the perfect time.
About To Life!
To Life! works to provide support for those diagnosed with breast cancer as well as their families, friends, and caregivers; they also educate the community about breast cancer detection, treatments, and related health matters. The organization serves 10 counties across the Capital Region.
"Donations like these help to ensure we can continue to serve countless breast cancer patients and families all across the Capital Region," Eileen Bird, Executive Director of To Life!, said in a statement. "We greatly appreciate all of the efforts from the staff at Saratoga Casino Hotel and the members of The Burners U.K. for organizing such a great event."
About The Burners U.K.
The Burners U.K. was formed in Albany in 1998 in part by J Yager and Matt "Lanky" Pirog, who now both belong to The Audiostars.
"The energy in Vapor for our reunion show was electric," J Yager said in a statement. "We were so glad to perform in front of our great fans again while helping to raise money for such a wonderful cause."