Can you believe we're already into the fourth week of racing season at the Track? Whether you're coming back or planning your first Saratoga trip, you won't want to miss all of the events and activities lined up for Week 4!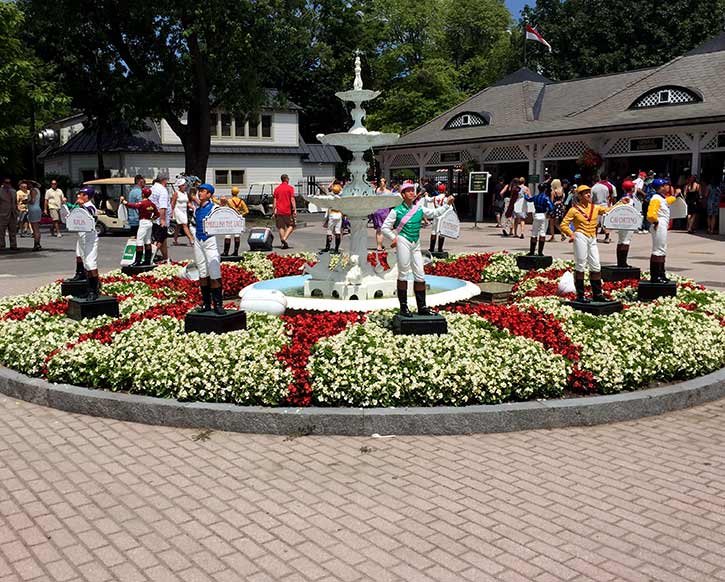 Entertainment
If you need a racing refresher, tune in to At The Post Live: Serling on Saratoga! The live broadcast airs every Thursday on ESPN Radio 104.5 "The Team" from 8 to 9 p.m. For more on At The Post Live »
Don't forget to download the free NYRA XP app! Plan your day at the Track by purchasing tickets, finding events, betting through NYRA Bets, and so much more! What is NYRA XP? »
On Monday, August 14, kids can meet and pet a real, retired racehorse at the Berkshire Bank Saratoga Pavilion! Berkshire Bank Family Mondays are held from 11 a.m. to 4 p.m., featuring fun games and activities for the whole family to enjoy.
Food & Drinks
Looking to start your day right? Head over to the porch of the clubhouse from 7 to 9:30 a.m. for breakfast at the Track! This morning buffet is presented by B95.5 FM Breakfast Club, and will be available on a first-come, first-served basis. The price for adults is $18.50, and $10.25 for the little ones. And don't forget to follow up your meal with a tram tour through the backstretch! Tours begin at 7:30 and depart from the clubhouse entrance every 15 minutes through 9 a.m.
Wednesday, August 9, is BrewCentralNY.com Day! Enjoy craft beer, wines, ciders, and spirits from Central New York while learning about the region's traditions. Sample beverages in increments of five for $5! Find out more »
Taste NY: Cider, Wine & Spirits is held every Thursday at the Berkshire Bank Saratoga Pavilion from noon to 5 p.m.
Also on Thursdays, Tequila & Tacos are being offered after the final race! Come to The Post and enjoy delicious specials while listening to live flamenco guitar performances.
Taste NY continues on Fridays and Saturdays with Craft Beer, and on weekends with Food and Artisans!
Woodford Reserve Fridays and Ketel One Party at The Post, on Fridays and Saturdays respectively, are your destination after the final race. Enjoy drinks, live music, trivia, and giveaways!
Other Highlights
Fabulous Fillies Day, celebrating the contributions of women to the thoroughbred industry, will be held on Thursday, August 10! Help raise funds in support of The Breast Cancer Research Foundation (BCRF) at various locations throughout the Track.
Think pink! Guests are invited to participate in the Best in Pink fashion contest. To enter for your chance to win a prize package valued at $2,000, have your picture taken at the Jockey Silks Room Porch from 1 to 3 p.m.! Judges will announce their pick for the most stylish contestant at 3:15 p.m.
Starting at 11 a.m., come to the At the Rail Pavilion for the Sizzling Hot Pink Saratoga Hat Luncheon and champagne reception! Tickets are limited, but may be purchased at playforpink.org/saratoga.
Monday, August 14 features the Low Roller Challenge! Aspiring handicappers will experience tournament play for $40, with $30 towards live bankroll and $10 to the prize pool. If you'd like to participate, make sure to register near the Fourstardave Sports Bar starting at 11 a.m.
Community Outreach Booth
On Wednesday, help support the Thoroughbred Retirement Foundation. The largest equine sanctuary in the world, this amazing foundation assists in the rescue, retirement, rehabilitation, and retraining of racehorses.
Thursday welcomes the Floyd Warriors, whose mission is to support and inspire Capital Region cancer patients and their families.
Saratoga Bridges, providing opportunities for individuals with developmental disabilities, will be hosted by the Community Outreach Booth on Friday.
Saturday's guest is one of the largest skating clubs in the Capital Region! For more than 30 years, the Saratoga Springs Figure Skating Club has worked to promote the sport recreationally and competitively.
Support The Joseph Ahmed Foundation when you visit the Booth on Sunday. This non-profit organization works hard to raise awareness of Ewing's Sarcoma and other sarcomas in need of research funding.
On Monday, the Track will host Shenendehowa Nordic Club, promoting cross country skiing in southern Saratoga County.
Who else will be at the Community Outreach Booth this summer? »
Featured Races
Wednesday, August 9
$100,000 Quick Call for 3-year-olds on the turf
Thursday, August 10
$100,000 Statue of Liberty for 3-year-old fillies on the turf
Friday, August 11
$100,000 Tale of the Cat for sprinters, 3 years old and up
Saturday, August 12
Grade 1, $500,000 Fourstardave Handicap for 3-year-olds and up, 1 mile on the turf
Grade 2, $200,000 Adirondack for 2-year-old fillies
Sunday, August 13
Grade 2, $200,000 Saratoga Special for 2-year-olds
Monday, August 14
$100,000 Saratoga Dew (NYB) for New York-bred fillies and mares, 3 years old and up