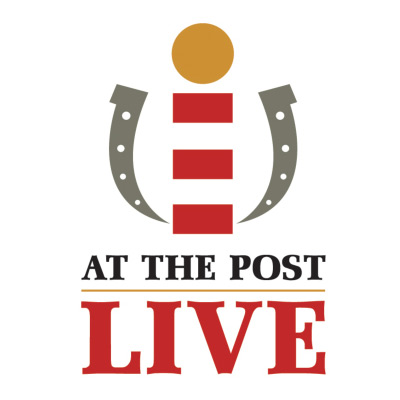 Back again for the 2017 racing meet! At The Post Live, hosted by Andy Serling, starts off its sixth season on July 20. Serling is well-known for his insights in Talking Horses, NYRA Live, and other NYRA TV programs.
Produced before a on-location audience at the Parting Glass Pub and presented by NYRA Bets, Capital OTB and the Daily Racing Form, At The Post Live will air live every Thursday from 8 p.m. to 9 p.m. Eastern Time. The show covers expert racing insights, recaps, interviews, and events in Saratoga Springs. You can catch At The Post Live on a number of platforms, including on ESPN Radio 104.5 FM "The Team," or streaming live online at 1045theteam.com.
Missed the live show? No worries! You can still catch up with video segments on NYRA's website, the NYRA Network, and on NYRA's official YouTube channel. And don't forget to follow @andyserling and @atthepostlive on Twitter!
Who's At The Post?
Nationally televised host Andy Serling is joined by an all-star cast of experts. Among those joining him for the season opener are horse racing analyst Paul Lo Duca, jockey Rajiv Maragh, and trainer Brad Cox.
Paul Lo Duca
Former Major League Baseball All-Star and veteran horse racing analyst Paul Lo Duca makes his "Saratoga Live" debut on July 21. After an amazing baseball career which led him to an appearance in the National League Championship Series, Lo Duca began working at TVG as an on-air handicapper in 2009.
Rajiv Maragh
After making an incredible recovery from his fall in Belmont Park, Rajiv Maragh returned to riding last December. An accomplished jockey, Maragh and his horses won 2014's G1 Sword Dancer and G1 Joe Hirsch Turf Classic, as well as back-to-back Breeders' Cup Filly & Mare Sprint wins in 2012 and 2013.
Brad Cox
You may recognize some of this trainer's best runners! Having worked with Cash Control, Chocolate Ride, and other multiple graded stakes winners, Brad Cox ended the 2016 season with 151 wins. Growing up near Churchill Downs, Cox went on to earn an advanced degree in racing education. Making his At The Post Live debut, Cox brings a lifelong passion for racing to the table.