This summer, the New York Racing Association will host nearly 40 non-profit organizations at Saratoga Race Course! The Community Outreach Booth, which hosts local and regional non-profits, can be found across from the Saratoga Walk of Fame, next to the Jockey Silks Room. Every day, guests will be able to participate in fantastic initiatives, including fundraising through arts and crafts, autograph sessions, musical performances, and much, much more!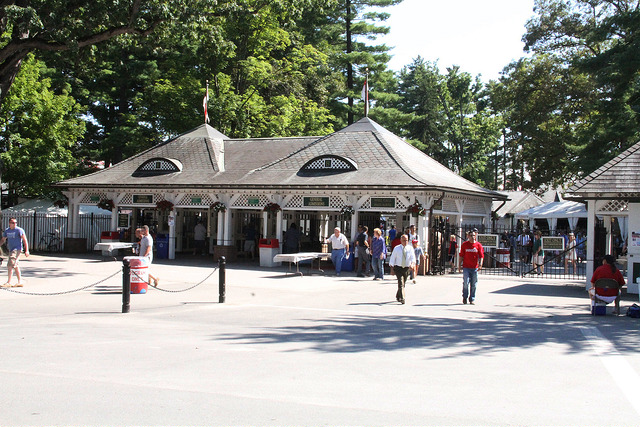 "The New York Racing Association is proud to provide these local non-profit organizations with an opportunity to interact with new audiences that might not otherwise know of the noble efforts in which each of these non-profit organizations engage," said NYRA CEO and President Chris Kay. "We are pleased to assist them in their fundraising efforts and in building greater awareness and a stronger community."
Organizations like Saratoga WarHorse (hosting July 30) and Saratoga Economic Opportunity Council (August 25) are excited to return to the Track for the 2017 summer meet.  With thousands of visitors coming to Saratoga each year, the Community Outreach Booth offers a great way to give back!
Who Will I See?
Want to have fun and help out? Here is the Community Outreach Booth's 2017 season line-up:
July
Friday, July 21 » Rerun Thoroughbred Adoption
Saturday, July 22 » The Wesley Community
Sunday, July 23 » Veterans Community Housing Coalition
Monday, July 24 » Saratoga Regional YMCA
Wednesday, July 26 » Jewish War Veterans Post 36 Saratoga Springs
Thursday, July 27 » Sunnyview Rehabilitation Hospital Foundation
Friday, July 28 » North Country Wild Care
Saturday, July 29 » Permanently Disabled Jockey Fund
Sunday, July 30 » Saratoga WarHorse Foundation
Monday, July 31 » American Cancer Society
August
Wednesday, August 2 » K9s for Warriors
Thursday, August 3 » Gallop NYC
Friday, August 4 » Hope Soars
Saturday, August 5 » Christie's Heartoberfest
Sunday, August 6 » Thoroughbred Aftercare Alliance
Monday, August 7 » Friends of Moreau Lake State Park
Wednesday, August 9 » Thoroughbred Retirement Foundation
Thursday, August 10 » Floyd Warriors
Friday, August 11 » Saratoga Bridges
Saturday, August 12 » Saratoga Springs Figure Skating Club
Sunday, August 13 » The Joseph Ahmed Foundation
Monday, August 14 » Shenendehowa Nordic Club
Wednesday, August 16 » Capital District New York Synchronized Skating
Thursday, August 17 » Saratoga Foundation for Innovative Learning
Friday, August 18 » National Museum of Racing & Hall of Fame
Saturday, August 19 » The Lustgarten Foundation
Sunday, August 20 » Girls Inc. of the Greater Capital Region
Monday, August 21 » Saratoga Network
Wednesday, August 23 » Albany Police Athletic League
Thursday, August 24 » Saratoga Automobile Museum
Friday, August 25 » Saratoga County Economic Opportunity Council (canned food drive)
Saturday, August 26 » Backstretch Employee Service Team
Sunday, August 27 » Center for Disability Services
Monday, August 28 » Troy Boys & Girls Club
Wednesday, August 30 » Living Resources
Thursday, August 31 » Habitat for Humanity
September
Friday, September 1 » National Museum of Racing & Hall of Fame
Saturday, September 2 » Capital Region Toys for Tots Foundation
Sunday, September 3 » Ronald McDonald House Charities of the Capital Region
Monday, September 4 » Cohoes Connect Center for Youth