That's right, folks: we're already more than halfway through racing season! So what events and activities can you expect for your next visit to Saratoga Race Course? Here's your Week 5 lineup.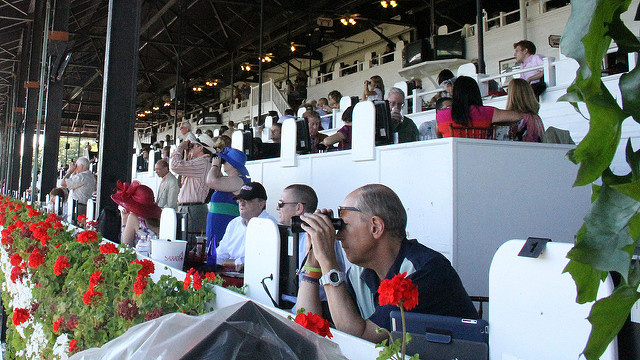 Entertainment
Wednesday, August 16 is Adirondack Day! Come to the Berkshire Bank Saratoga Pavilion from 11 a.m. to 5 p.m. for fun and educational Adirondack-themed activities like log stamping, weaving and balsam bag-making. Animal-lovers can meet and learn about the region's native species with a showcase from the Adirondack Wildlife Refuge. To top it all off, enjoy Adirondack craft beverages and fresh food while listening to music by Jason Irwin!
If you need a racing refresher, tune in to At The Post Live: Serling on Saratoga! The live broadcast airs every Thursday on ESPN Radio 104.5 "The Team" from 8 to 9 p.m.
Don't forget to download the free NYRA XP app! Plan your day at the Track by purchasing tickets, finding events, and betting through NYRA Bets. In addition, the app's Express Pickup feature now allows you to order food, beverages and merchandise! Learn more about NYRA XP »
Saturday is Lustgarten Foundation Day. Saratoga is honoring the legacy of trainer Dominic Galluscio with this benefit day for The Lustgarden Foundation. Support this non-profit in their mission to advance pancreatic cancer research. Trainers will hold a $10 donation autograph session from 11:30 a.m. to 12:30 p.m. near the paddock mutuel bay.
On Monday, August 21, kids can meet and pet a real retired racehorse at the Berkshire Bank Saratoga Pavilion! Berkshire Bank Family Mondays are held from 11 a.m. to 4 p.m., featuring fun games and activities for the whole family. Donations are accepted to benefit a local school or PTA every week, with this Monday's proceeds going towards Chango Elementay School of Ballston Lake.
Food & Drinks
Attention early birds: head over to the porch of the clubhouse from 7 to 9:30 a.m. for breakfast at the Track! This morning buffet is presented by B95.5 FM Breakfast Club, and will be available on a first-come, first-served basis. The price for adults is $18.50, and $10.25 for the little ones. And don't forget to follow up your meal with a tram tour through the backstretch! Tours begin at 7:30 and depart from the clubhouse entrance every 15 minutes through 9 a.m.
Taste NY: Cider, Wine & Spirits is held every Thursday at the Berkshire Bank Saratoga Pavilion from noon to 5 p.m.
Also on Thursdays, Tequila & Tacos are being offered after the final race! Come to The Post and enjoy delicious specials while listening to live flamenco guitar performances.
Taste NY continues on Fridays and Saturdays with Craft Beer, and on weekends with Food and Artisans!
Woodford Reserve Fridays and Ketel One Party at The Post, on Fridays and Saturdays respectively, are your destination after the final race. Enjoy drinks, live music, trivia, and giveaways!
Other Highlights
Don't forget to purchase tickets for Travers Day! Save $5 when you purchase admission tickets in advance. Grandstand admission on Travers Day, August 26 is $15, while clubhouse admission is $25.
Low Roller Challenge: On Sunday and Monday, aspiring handicappers can experience tournament play for $40, with $30 going towards bankroll and $10 to the prize pool. Register near Fourstardave Sports Bar starting at 11 a.m.
Saratoga Cooler Bag Giveaway: Don't miss the third Track giveaway of 2017! Cooler bags will be free with paid admission on Monday, while supplies last. Season pass and ticket plan holders are guaranteed a premium giveaway item! Just be sure you're in attendance, enter through the designated pass and ticket holder lines, and redeem your giveaway by 3 p.m.
Community Outreach Booth
The first Community Outreach Booth of the week hosts Capital District New York Synchronized Skating. On Wednesday, support skaters from across the Capital Region in their mission to promote the sport recreationally and competitively.
Saratoga Foundation for Innovative Learning is at the Booth on Thursday. See how this non-profit organization fosters forward-thinking and creative opportunities in the Saratoga Springs City School District.
On Friday, learn about how the National Museum of Racing and Hall of Fame preserves the history of American thoroughbred racing.
Support The Lustgarten Foundation on Saturday. This amazing organization aims to advance cancer research through funding, support and awareness.
Sunday hosts Girls Inc. of the Greater Capital Region, providing programs to young women and serving over 200 girls in Albany and Schenectady through immersive after-school activities.
Finally, on Monday, hear from the Wilton Bicentennial Committee, commemorating the 200th anniversary of the Town of Wilton in 2018!
Who else will be at the Community Outreach Booth this summer? »
Featured Races
Wednesday, August 16
$100,000 Bolton Landing for 2-year-old fillies on the turf
Thursday, August 17
$100,000 Union Avenue (NYB) for New York-bred fillies and mares, ages 3 and up
Friday, August 18
$100,000 Skidmore for 2-year-olds on the turf
Saturday, August 19
Grade 1, $600,000 Alabama at a mile and a quarter
Grade 2, $300,000 Lake Placid for 3-year-old fillies on the turf
Sunday, August 20
$100,000 Summer Colony for fillies and mares
Monday, August 21
$100,000 Evan Shipman (NYB) for New York-breds aged 3 and up