On Friday, August 24, the Saratoga Walk of Fame will honor its newest inductee! Read on to learn about celebrated trainer Bob Baffert's impressive career, the Saratoga Walk of Fame, and the Red Jacket Ceremony — plus what you'll need to know on the road to Travers Day.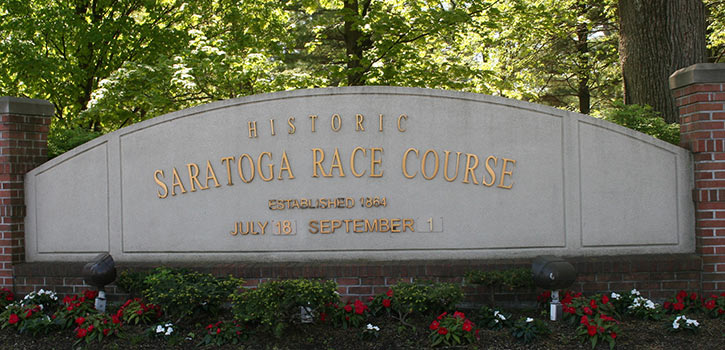 About the Inductee
Bob Baffert won the Triple Crown in both 2015 and 2018, joining Sunny Jim Fitzsimmons as the second trainer in history to win the title more than once. He has also trained back-to-back Travers winners in Saratoga, including Arrogate, who broke course records with a victory in 2016, and West Coast, winner of the summer's marquee race in 2017.
A four-time Eclipse Award-winner for Outstanding Trainer, Baffert has registered 15 victories in Triple Crown races over the course of his career, and in 2009, was inducted into the National Museum of Racing Hall of Fame. Baffert's induction into the Saratoga Walk of Fame continues to celebrate his historic achievements in the sport of horseracing.
"The Walk of Fame is designed to recognize the men and women who have made outstanding contributions to our sport and who have achieved great success. Bob Baffert is certainly one such individual," said NYRA CEO and President Chris Kay in a statement. "Bob's achievements have firmly established him as one of the most successful trainers in modern history. It is with sincere pleasure that we welcome Bob to the Walk of Fame to take his place alongside the other greats of the game."
The Red Jacket Ceremony
The Saratoga Walk of Fame opened in 2015, honoring the achievements of those who have significantly contributed to the sport and to the advancement of the Track. As an inductee, Baffert's name will not only be unveiled on the 2018 plaque, but he will be awarded with a Saratoga red jacket. The Red Jacket Ceremony, taking place on New York Showcase Day, began in 2013 as a way of recognizing notable figures in horseracing.
Said Baffert in a statement, "I am truly honored to receive this Red Jacket… Saratoga is very dear to me and to be recognized in this manner with a plaque in the Walk of Fame is something special. I'd like to thank the New York Racing Association and Chris Kay for this honor as well as for bestowing such recognition upon those individuals within our great sport who have given so much of their own talent and energy to make it possible for me to be here today."
With his induction on August 24, Baffert joins a prestigious group of honorees including trainers H. Allen Jerkens, D. Wayne Lukas, and William "Bill" Mott, jockeys Ramon Dominguez and John Velazquez, owner Marylou Whitney, and NYRA race announcer Tom Durkin, among others.
Guests attending the Red Jacket Ceremony can view Baffert's latest Triple Crown trophy, awarded after Justify's victory in the 2018 Belmont Stakes.
Showcase Day & Runhappy Travers
The Red Jacket Ceremony takes place on Showcase Day, featuring six stakes for New York-breds, including the $250,000 Albany and $200,00 Funny Cide. But the excitement doesn't end there! The long-awaited Travers Day takes place on Saturday, August 25, and will feature the 149th running of the Grade 1, $1.25 million Runhappy Travers.