Taste NY is back at the track, and better than ever! Delight your taste buds every Thursday, Friday, and Sunday with fresh foods and drinks made in the great state of New York! Check out these three weekly events you won't want to miss.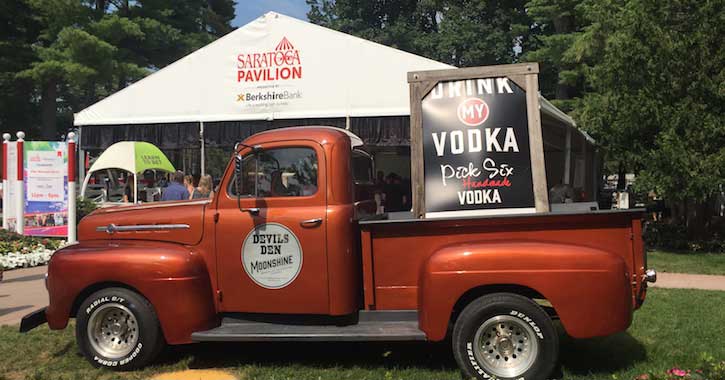 Thursdays – Cider, Wines, and Spirits
Hours: 12p.m. – 5p.m.
For just $5, you can sample five different ciders, wines, and spirits from across the state. Enjoy a fruity glass of Whitney's White from the Saratoga Winery, or a bold blueberry cider from Nine Pin Cider Works.
Some featured beverage producers include:
Indian Ladder Farms
Nine Pin Cider Works
Saratoga Winery
Springbrook Hollow Farm Distillery
Thirsty Owl
Fridays – NY Craft Beer
Hours: 12p.m. – 5p.m.
Savor some of New York's best beers, from Brooklyn Brewery's Brooklyn Lagers to Iroquois Pale Ale from Adirondack Brewery. Try five samples for $5!
NY craft breweries include:
Adirondack Brewery
Artisanal Brew Works
Brooklyn Brewery
Druthers Brewing Company
Lake Placid Brewery
RS Taylor and Sons Brewery
Sundays – Food & Artisan Market
Hours – 10:30a.m. to 5p.m.
There's nothing quite like a Farmer's Market. From Instagram-worthy produce to finger-licking sweets, Taste NY's Sunday Food and Artisan Market has the perfect product for everyone.
Some of the featured vendors:
George's Market and Nursery
Liberty Ridge Farm
Michelle Lombard Glass Designs
Miss Scarlett Boutique
Nothing Bundt Cakes
RAD Soap Co. in Albany
Slip into Foodie paradise with these delectable drinks, food, and more. Get your Track tickets today and enjoy Taste NY's outstanding selection.