Have you ever wondered what it takes to breed a champion thoroughbred? For accomplished horse breeder Bjorn Nielsen, to produce a racehorse that can rise to the highest level of competition requires an understanding of pedigrees, finding the best trainers, and sometimes a little bit of luck too. Ever since Bjorn Nielsen began breeding thoroughbreds, his goal has been to breed the winner of the Epson Derby – Great Britain's most prestigious Classics race.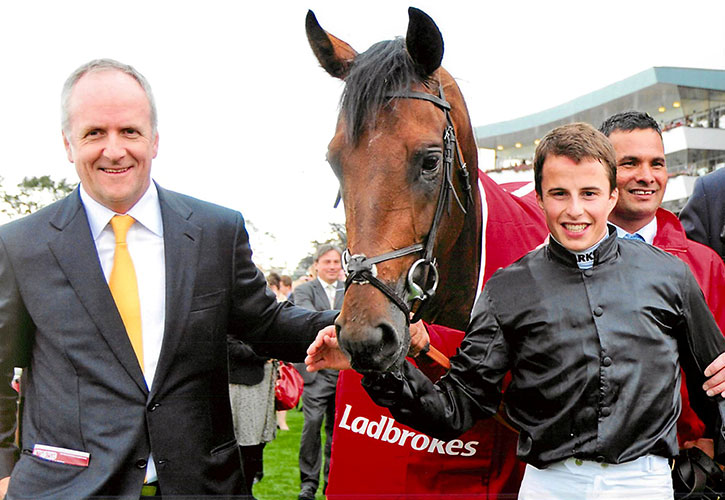 What Is Thoroughbred Breeding?
In the world of horse racing, the winners are commonly the ones who have been bred to succeed. These horses have a unique pedigree, or bloodline/ancestry, from which they have inherited certain traits and physical characteristics.
As such, if you understand the pedigree of a thoroughbred, then you can predict their suitability as a competitor and mate. That's where horse breeders such as Bjorn Nielsen come into play. Thoroughbred breeders study pedigrees to determine how they can breed a successful racehorse; however, each one has a different goal.
Some breeders may be trying to breed the winner of a specific type of race, such as the Kentucky Derby or the Breeders' Cup, and others are interested in making a profit. Although Nielsen's goal is to breed an Epsom Derby champion, his ever-growing knowledge of pedigrees has led to him breeding multiple winners over the years.
From South Africa to England: Bjorn Nielsen's Introduction to Horse Racing
Bjorn Nielsen was born and raised in Cape Town, South Africa, and as a child in the mid-1960s, he used to listen to thoroughbred races on the radio, as there was no television in South Africa at the time. One of the horses he would hear about a lot was Sea Cottage, who would turn out to be the most famous thoroughbred in South African history.
Sea Cottage would spark in Nielsen an interest in thoroughbred racing that has lasted to the present day. When his family moved to Epsom Downs in England, he would finally have the opportunity to see the kind of horses he had heard so much about on the radio.
Nielsen lived close to the Epsom Downs Racecourse and would visit before the great race and watch the contenders take their final spins. These were the days of famous trainer Vincent O'Brien, trainer Noel Murless, and jockey Lester Piggott.
His First Steps in the World of Thoroughbred Breeding
Despite his future accomplishments as a thoroughbred breeder, that wasn't Nielsen's original career path. He actually started out as a trader on the Commodity Exchange in New York, a job that he is still involved in today.
In the early 1990s, Nielsen decided to follow his childhood interest in racing, and he began buying racehorses. He quickly realized that it was difficult to find horses with the type of pedigrees he desired, and so, the solution was to breed thoroughbreds himself.
After studying pedigrees and learning how to breed successful thoroughbreds, Nielsen would eventually buy the mare My Branch at the Tattersalls December Sale in 2002, as well as her daughter Tante Rose the following year. My Branch and her offspring would turn out to be key parts of Nielsen's horse family.
Nielsen's Favorite Part of Being a Breeder
Throughout his career in thoroughbred breeding, Nielsen's favorite part has been trying to determine what mating is going to give a mare he owns the best chance of producing a champion. His most successful racehorses, in chronological order, have been Assessor, Tante Rose, Masked Marvel, and Stradivarius.
These four have all been Group I winners, with Masked Marvel having provided Nielsen with his one Classic success in the 2011 St. Leger. In addition, Nielsen has high hopes for Stradivarius to add to his list of achievements in the near future.
Memories of Saratoga Race Course
Like for many horse racing enthusiasts and fans, the historic Saratoga Race Course has left a lasting impression on Bjorn Nielsen. While his main focus is thoroughbred racing in England, Nielsen has had the opportunity to see the renowned thoroughbreds Red Ransom and Pentelicus break their maidens as two-year-olds at the Track.
For Nielsen, Saratoga Race Course and Keeneland are two of America's most beautiful race courses as their location in the countryside reminds him of his love for horse racing in Europe.
What It Takes to Raise a Champion
Today, Bjorn Nielsen lives in Palm Beach, Florida, but he spends a good amount of time in England during the Flat Racing Season. He mostly travels around to see the family and horses.
Many of his horses live in England where they are managed by three different trainers – Ed Walker, Roger Charlton, and John Gosden. Ed Walker trains for Nielsen and other owners at Kingsdown in Lambourn, England.
While Nielsen's horses were chosen for their pedigree, it's up to the trainers to unlock their potential and have them become contenders and champions.
Look Ahead Into 2018 & Beyond
Want to know which of Nielsen's horses you should keep an eye on this year? The three Nielsen sees as having the most potential for success in 2018 include Stradivarius trained by John Gosden, Almodovar trained by Roger Charlton, and Stephenson's Rocket trained by Ed Walker. All three will be racing in England.
While the success of each of his horses is important, Nielsen is still striving to one day be the owner of a future Epsom Derby champion.