Planning to spend time at the track this summer? Even though the start of racing season is still four months away, it's time to submit reservation requests for five or more dates at specific Race Course dining establishments. Full season plans are also available for dining tables in Saratoga's newest hospitality area, The Stretch. Plan ahead for the 2018 meet and get your spots secured!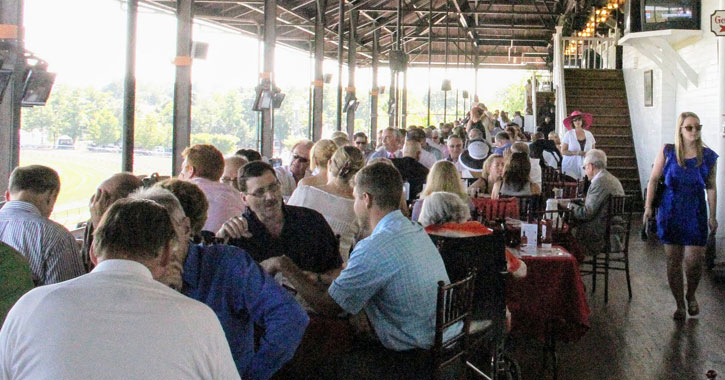 Reservations for Five or More Dates
Reservation requests for five or more dates at the Turf Terrace, Club Terrace, or The Porch will be accepted through email at saratogadining@nyrainc.com from now through March 28th at 4pm. Reservations need to include the dates, size of the party, and guest contact information.
Once the request has been put through, you'll be contacted by a NYRA dining representative to confirm the dates, based on availability. You'll need to pay a table charge at this time to secure the reservation. These reservations are final, non-refundable, non-transferable, and are based on the full table size.
Single-Day Dining Reservations
Single-day dining reservations will be accepted online at NYRA.com/dining starting on Wednesday, April 4th at 10am. You can submit your individual day dining requests by clicking on the appropriate link.
Dining at The Stretch & Other Hospitality Reservations
The Stretch is a brand new hospitality area located at the Top of the Stretch. There will be a two-tiered dining area with tables for four, six, and eight people.
All dining area guests receive access to a raised circular bar, full-service kitchen and concessions, touchscreen tablets at each table, high-end definition televisions and video screens, special events, and private restrooms. This area has a casual dress code. Dining at The Stretch will be limited and is expected to sell quickly.
Full space group hospitality reservations are also on sale right now for At the Rail Pavilion, Luxury Suites, Paddock Tent, Festival Tent, Big Red Spring Tent, and Top of the Stretch.
Reservations for The Stretch and full space hospitality areas can be made by calling 844.NYRA.TIX, via email at boxoffice@nyrainc.com, or at nyra.com/saratoga.