A major league slugger will be participating in a home run derby for charity this Saturday at the Saratoga Casino Hotel as part of the celebrity softball game at the All-Star Sports Festival. Before checking out the game, fans can enter a contest starting today for the chance to win a photo in the winners circle.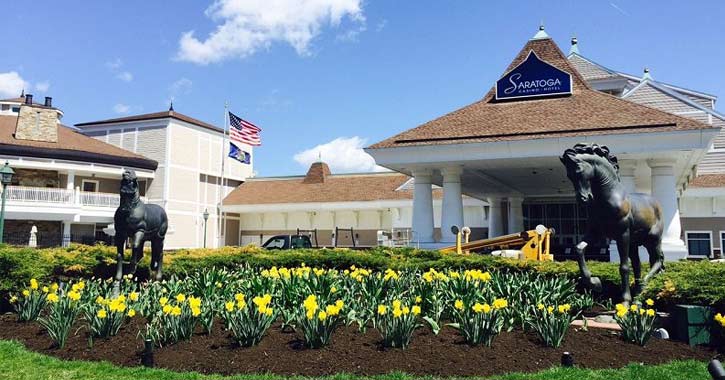 Celebrity Athletes Take to the Field
Major League Baseball outfielder and designated hitter Jose Canseco will be participating in Saturday's celebrity softball game along with a number of other notable athletes like Reggie Jackson, Goose Gossage, and Angel Cordero.
At the halfway point of the game, Canseco will receive 20 pitches from World Series Champion Dwight Gooden. For each home run, Saratoga Casino Hotel will donate $100 to the Ronald McDonald House Charities of the Capital Region.
"I can't wait to arrive in Saratoga and hit some home runs for a great cause," Canseco said in a statement. "If you thought I could hit a baseball far, just wait until you see me get a hold of a softball."
The softball game will take place on the field at Saratoga Casino Hotel at noon this Saturday, September 23rd. Tickets are $10 and can be purchased in advance at SaratogaCasino.com, or the day of the event. Kids 12 and under are free.
In addition to the money generated from Canseco's home runs, a portion of all ticket proceeds will go towards the Ronald McDonald House Charities.
More Fun at the Game
Those in attendance will also be able to enjoy live music from The Refrigerators and Skeeter Creek, along with a variety of delicious food from food trucks that will be on site.
After the softball game, a celebrity harness race will take place during the evening's race card. Triple Crown winning jockeys Steve Authen and Jean Cruguet will take on Angel Cordero, the "King of Saratoga," on the harness track. This is a non-wagering race and will take place after the second race of the evening's card, around 7:20pm.
For $60, you could enjoy a brunch at Vapor before the day's activities and hear from the athletes during a Q&A session – this admission price also includes the softball game.
The Contest
After the game, athletes will be available for autographs and photos, with pricing varying by athlete. Starting today, Thursday, September 21st, fans will have the opportunity to enter a contest to win a photo opportunity in the winners circle with all the jockeys following the race.
Entry forms are available in all Saratoga Harness racing programs the 21st through the 23rd.