On June 23, 2017, the New York Racing Association, Inc. (NYRA) kicked off Saratoga Showdown, a free online contest that allowed fans to place mythical wagers and win prizes. This contest was available every race day of the 2017 Saratoga meet, and winners received entry into a grand prize sweepstakes. Recently, NYRA announced that the winner of the inaugural Saratoga Showdown Sweepstakes Grand Prize was a Saratoga Springs resident!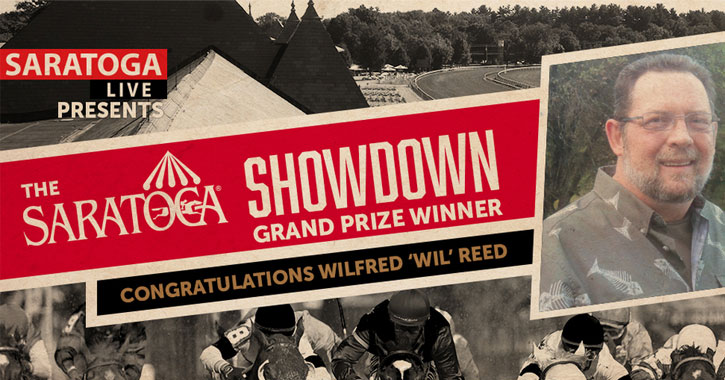 Photo provided by NYRA
Saratoga Showdown
Now closed for the year, Saratoga Showdown is a free online game that lets race fans test their skills against other players and win prizes. During this past season at Saratoga Race Course, the contest was offered during races that aired on NYRA's flagship TV show "Saratoga Live."
Players who signed up for a free account on www.saratogashowdown.com were able to enter the contest, which featured three different formats that alternated on live race days. There was no cost to play, and all the wagers were mythical (fake).
After each race, the player with the largest bankroll received one sweepstakes entry for a chance to win the Showdown Sweepstakes Grand Prize, which would be awarded at the end of the 2017 Saratoga meet. In addition, the player with the largest total bankroll at the end of the day received 50,000 NYRA Bet points and one sweepstakes entry.
The 2017 Winner
After drawing a random winner from the sweepstakes entries, NYRA has announced that Saratoga resident Wilfred "Wil" Reed, also known by his contest name Wagering Wizard Wil, has won the grand prize. The prize is a 2018 Belmont Stakes VIP Package that includes two seats in the Champagne room, two programs, food, merchandise, and a $500 betting voucher.
Although he never had the largest total bankroll at the end of the day, Wagering Wizard Wil earned sweepstakes entries by topping the leaderboard after the end of a race.
The Next Showdown
Saratoga Showdown may be done for the year, but the Belmont Showdown is just getting started. The rules for this game are similar. On Saturdays and Sundays during the 2017 Belmont Fall Championship Meet, players can enter the free contest by creating an account on www.belmontshowdown.com. The races you can place mythical wagers on will be televised on Belmont Park Live.
After the end of the championship meet, one player will be picked to receive the Belmont Showdown Sweepstakes Grand Prize, which includes a VIP trip to the 2018 Belmont Stakes.