It's time to celebrate women and their contributions in the thoroughbred industry with the annual Fabulous Fillies Day at Saratoga Race Course! Hit the races this Thursday, August 10 for a great time and to raise funds to support The Breast Cancer Foundation (BRCF). The celebration will be on the track, in the paddock and everywhere in between. Come join the festivities!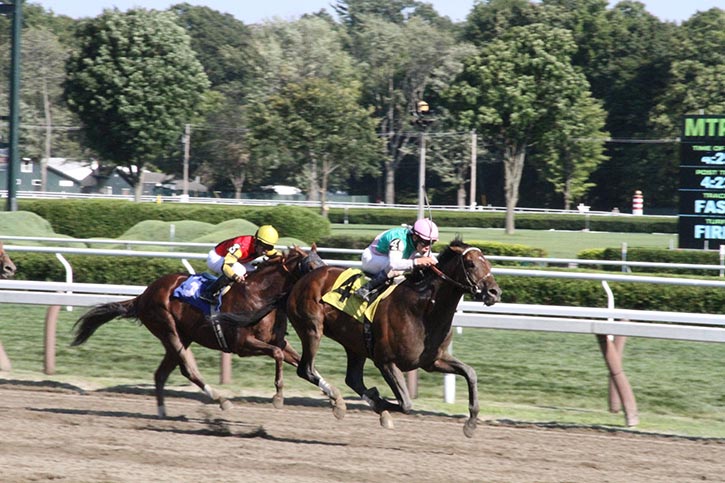 "Best in Pink" Competition
Break out your brightest pink for Fabulous Fillies Day! This year will feature the inaugural "Best in Pink" fashion contest, and the winner will go home with a prize package valued at $2,000. All you have to do is show up in your most stylish pink outfit. Make sure you head over to Jockey Silks Room Porch from 1:00-3:00pm to enter the contest and have your photo taken!
Here is what's on the table for best dressed:
Special Travers Day VIP package

4 clubhouse reserved seats
Trackside parking
Programs
Concession voucher

$500 gift certificate to Prime at Saratoga National
Vineyard Vines Merchandise
$500 Vineyard Vines gift card
Other Saratoga Race Course merchandise
Are you ready to get decked out in pink for Fabulous Fillies Day? One male and one female will be selected as contest winners at 3:15 pm. Who will have the most festive, fabulous and fierce contest outfit?
Sizzling Hot Pink Saratoga Hat Luncheon
This year's centerpiece of Fabulous Fillies Day is the Sizzling Hot Pink Saratoga Hat Luncheon at the Rail Pavilion honoring Sheila Rosenblum of Lady Sheila Stable. Starting at 11 am enjoy champagne accompanied by Vineyard Vines boutique.
Follow up the cocktail reception and boutique shopping at the luncheon with fabulous door prizes, and emmy-nominated emcee and breast cancer survivor, Mary Morin Carlin at 12:30 pm. Guest speaker, Larry Norton, MD from Memorial Sloan Kettering Cancer Center, will host an open discussion with audience interaction during the luncheon.
100% of funds raised will be donated to BCRF through Play for P.I.N.K, a grassroots organization dedicated to raising funds for breast cancer research by promoting awareness of the disease through sporting and lifestyle events. Tickets to Sizzling Hot Pink Saratoga Hat Luncheon are $200 and available at playforpink.org/saratoga, a limited amount of tickets are available so get them now!
Other Fabulous Fillies Highlights
Keep your eyes out for pink decorations, celebrations and contests scattered throughout the track! The day's designated race will feature jockeys riding with pink armbands and horses outfitted in pink saddle cloths; there will be so much pink coming around the turn! The track will also be adorned with pink bunting flowers all day long.
Head over to the paddock to find the historic Sea Hero statue draped in a pink horse blanket.
Thursday's community outreach booth will host Floyd Warriors. Head over to the booth to learn about this organization that is dedicated to support and inspire those recently diagnosed with cancer and their families.
We'll see you on Thursday to support this amazing cause!
See the full list of special events happening at the Saratoga Race Course this season >>