Taste NY is back and better than ever this track season! Did you know New York State is one of the leading suppliers of agricultural products in the nation? The Taste NY series is expanding to four days a week during the 2017 Saratoga Race Course season to showcase even more of what NYS has to offer. Are you looking to sample local spirits, craft beer, fashion, food and more? Keep an eye out for Taste NY as you head to the races!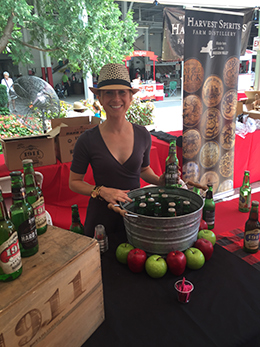 Taste NY aims to showcase the agriculture of NY in this live on-track series. Thursday through Sunday track-goers can sample a wide variety of New York's agricultural products. In a statement, NYS Agriculture Commissioner Richard Ball said, "Just like our world-class thoroughbreds, New York produces some of the very best agricultural products, and the Taste NY at Saratoga series is a great way to enjoy both." 
Here's a breakdown of what Taste NY events you can expect on each of the four days:
Thursdays- Cider, Wine & Spirits
12 noon – 5 pm
Head over to the Berkshire Bank Saratoga Pavilion to sample over 10 New York vendors' products. Admission into the pavilion is free of charge, and tastings are available in increments of five samples for $5. Say hello to vendors like Albany Distilling Company and Thousand Islands Winery on Thursdays this track season.
Fridays- Craft Beer
12 noon- 5 pm
Can't make it out Thursdays? Participate in a hoppy, malty, piney, or all of the above craft beer tasting on Friday! Get your weekend started with 14 New York breweries like Druthers Brewing Company and Brooklyn Brewery. The pricing is the same as Thursday's sampling, $5 will get you five samples. Place your bets and head over to Berkshire Bank Saratoga Pavilion for a taste bud tingling experience.
Saturdays and Sundays- Food and Artisan Market
10:30 am to 5 pm
This on-track market is now held two days a week! Join local agriculture based companies and grab some free samples while you're at it every Saturday and Sunday of the summer meet. Keep an eye out for companies like Mountain Wind Farms, Planted Organics, Black Kettle Soap and 15 more vendors.
There's a lot to look forward to this race course season, and the schedule just got better. Head to the races starting Friday, July 21 through Labor Day, September 4 and don't forget to snag some samples at Taste NY!