A Guide to Saratoga Race Course & The Saratoga Harness Track
Welcome to SaratogaRacetrack.com - the Unofficial Guide to the tracks in Saratoga Springs, including the harness track at Saratoga Casino Hotel and Saratoga Race Course. This is a year-round destination for information on horse racing as well as a vacation planning guide to the Saratoga County, New York area, including the historic city of Saratoga Springs. Navigate through the links above, or use the search page to find a specific business.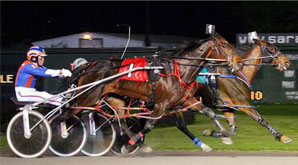 The harness track at
Saratoga Casino Hotel
features live racing from March until December! Learn more about this Saratoga landmark and check out a schedule of upcoming races.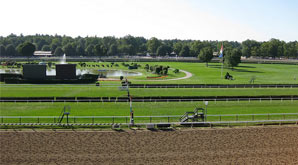 We've got answers! Check out our
FAQs page
for answers to some of the most common race course questions.
NOTE: Saratoga Springs hotels and lodging in outlying areas book up quickly, so make your reservations NOW!
SaratogaRacetrack.com E-News: Deals, Events, Specials and More!

Did Horse Racing Ruin a Good Thing?
When a horse dies at Aqueduct, it is sad. When a horse dies at Saratoga, it is sad--and noticed. At this year's Saratoga meet, nine horses have died while racing or training and the meet is not even at its midpoint. When this happens, everybody Continue Reading »
---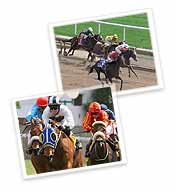 This is a personal view on Saratoga Racing; official information can be found at Saratoga Casino Hotel or NYRA, the Official Saratoga Race Course site. For more information on Saratoga Springs, visit: www.Saratoga.com
Area Businesses - Do you want exposure to the thousands of visitors that flock to the Saratoga Region every year? Find out how YOU can advertise on SaratogaRacetrack.com!