A Guide to Saratoga Race Course & The Saratoga Harness Track
Welcome to SaratogaRacetrack.com - the Unofficial Guide to the tracks in Saratoga Springs including the Saratoga Raceway and Saratoga Race Course, a year-round destination for information on horse racing as well as a vacation planning guide to the Saratoga County, New York area, including the historic city of Saratoga Springs. Navigate through the links above, or use the search page to find a specific business.
NOTE: Saratoga Springs hotels and lodging in outlying areas book up quickly, so make your reservations NOW!
SaratogaRacetrack.com E-News: Deals, Events, Specials and More!

Super Horse II?
Is Nyquist that good? We will see.Could it happen again? It took 37 years before American Pharoah won horse racing's Triple Crown, a feat that many thought was no longer possible. The horses are bred differently, train differently and generally are not as tough were the listed Continue Reading »
---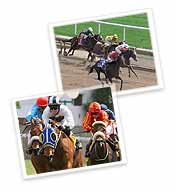 This is a personal view on Saratoga Racing; official information can be found at Saratoga Casino and Raceway or NYRA, the Official Saratoga Race Course site. For more information on Saratoga Springs, visit: www.Saratoga.com
Area Businesses - Do you want exposure to the thousands of visitors that flock to the Saratoga Region every year? Find out how YOU can advertise on SaratogaRacetrack.com!