2014 Travers Day
Saratoga's "Mid-Summer Derby"
Date: Saturday, August 23, 2014
Gates Open Early at 7:00 a.m.
Early Post time: 11:35 a.m.
General Admission: $10
Clubhouse Admission: $15


History of The Travers at Saratoga Race Course: America's Oldest Stakes Race for Thoroughbreds
When the Saratoga Racing Association named the Travers Stakes for William R. Travers (one of the founders of America's oldest race course), they sought only to honor a man who'd made his mark on the sport of horse racing. Mr. Travers' horse, Kentucky, won that first in 1864.
Almost immediately, the Travers became a prestigious event, as word spread that the race was designed for only extraordinary three-year-old horses. The race has been run at four different distances during the course of its history to-date:
1¾ miles (2.81 km): 1864 to 1889
1½ miles (2.41 km): 1890 to 1892
1¼ miles (2.01 km): 1893, 1894, 1897 and 1904 to present
1? miles (1.81 km): 1895 and 1901 to 1903
The present distance of 1 ¼ mile is a perfect distance for contemporary three-year-olds. The race is open to colts and geldings, carrying 126 lb (57.2 kg) and fillies, carrying 121 lbs. (54.9 kg).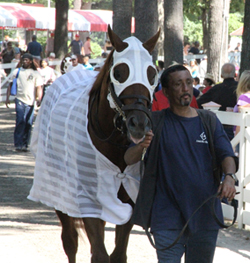 The Travers creates memories every year, for thousands of people. Too many wonderful experiences to recount here, but some of those memories that have been shared by large numbers of race fans:
In 1941, Whirlaway became the only horse ever to win the superfecta: he'd won the Triple Crown, then went on to take the Travers, as well.
In 1962, Jaipur won by a nose-bob in track record time over Ridan, who was considered to be more talented. The long battle (the entire 1 ¼ mile) saw the two horses duke it out the entire distance of the race.
In 1982, Runaway Groom (Champion Canadian three-year-old), who was trained by John DiMario, arrived at the Saratoga backstretch after a very long and exhausting season. He'd competed in the Canadian Triple Crown: he won the Prince of Wales Stakes, the Breeders' Stakes, and finished second in the Queen's Plate. Runaway Groom's Travers victory made him the only horse in racing history to beat the winners of that year's American Triple Crown in the same race. (Kentucky Derby winner Gato Del Sol; Preakness Stakes winner Aloma's Ruler and Belmont Stakes winner, Conquistador Cielo.)
Point Given, a gorgeous, big, 17hh monster, won the Travers on August 25, 2001. That day, Point Given drew a record Travers Stakes Day crowd, 60,486 fans. The race brought in a total betting handle of $34,529,273. This was also a Saratoga record to that date.
2014 Travers Stakes Draw:



#1 - Commanding Curve: Trainer: Dallas Stewart Jockey: Shaun Bridgmohan Odds: 15-1

#2 - Bayern: Trainer: Bob Baffert Jockey: Martin Garcia Odds: 2-1

#3 - Charge Now: Trainer:Bill Mott Jockey: Junior Alvarado Odds: 15-1

#4 - V.E. Day: Trainer: Jimmy Jerkens Jockey: Javier Castellano Odds: 15-1

#5 - Viva Majorca: Trainer: Ian Wilkes Jockey: Julien Leparoux Odds: 20-1

#6 - Tonalist: Trainer: Christophe Clement Jockey: Joel Rosario Odds: 3-1

#7 - Wicked Strong: Trainer: Jimmy Jerkens Jockey: Rajiv Maragh Odds: 7-2

#8 - Kid Cruz: Trainer: Linda Rice Jockey: Irad Ortiz Jr. Odds: 12-1

#9 - Ulanbator: Trainer: Ian Wilkes Jockey: Brian Hernandez Odds: 30-1

#10 - Mr. Speaker: Trainer: Shug McGaughey Jockey: Jose Lezcano Odds: 10-1


*Information current as of 8/20


Traditions

Trophy
The Travers Trophy is known as the Man O'War Cup, and was designed by Tiffany & Co. The trophy was named for Samuel Riddle's great Champion: Mr. Riddle donated the trophy as the permanent award for winning the race. A gold-plated replica is presented to the winner every year, by a member of the Riddle family.

Travers Blanket
The winner of the Travers Stakes will receive an extravagant floral blanket, a beautiful blanket of flowers to drape over the horse, hand-made locally with over a thousand carnations.

The Travers Canoe
The Travers Canoe has been a lovely tribute to the winners of the Travers, every year since 1961. Every year, the canoe is painted in the colors of the silks of reigning Travers winner. A canoe has been a fixture in the infield pond since 1926, but it wasn't until 1961 that the canoe became affiliated with the Travers.

The Travers always has been a race that sets the blood to flowing, whether you're a fan whose favorite horse is running; an owner or trainer, who's entered your prize horse or a handicapper whose reputation hangs on the line. The Travers has earned its nickname, the Midsummer Derby, because truly, this oldest of stakes races for Thoroughbreds is a test of the mettle of a horse. He-or she-who trots off the legendary track at Saratoga with the Travers flowers about his/her neck is a Champion, indeed-and a horse whose name is permanently part of the lore and history not only of Saratoga, but of horse racing, itself.

Looking for a place to stay for Travers Day? Check out the best lodging in Saratoga!
Interested in reserving a picnic table for Travers Day at the track? Find more details about the Reserved Picnic Table Sweepstakes!