Frequently Asked Questions about the Saratoga Racetrack
Looking for information about the Racetrack?
Find answers to some of our most Frequently Asked Questions below.
Tickets & Reservations
Is there reserved seating, or may I just sit wherever I want?

There is both reserved seating and free-for-all seating at the track.

If you choose to picnic in the unreserved backyard grounds of the track (no direct track view), you can bring your own chairs or even a pop-up tent, and sit wherever you wish. If you're hoping to get a picnic table, there is a 7:00 AM rush when the track opens for breakfast, where many people claim their picnic table for later by putting a cooler or tablecloth on it. After they've "reserved" their spots, they leave until just before the gates open for paid admission. When in doubt, it's always best to get there early to get a great spot.

There are also reserved picnic tables in a designated area. These tables are limited to a maximum of six people each, and chairs, tents, and umbrellas are not allowed in this area.

Additionally, reserved tables are available in the Fourstardave Sports Bar in the lower Carousel. These can accommodate two, four, and six people. Personal coolers and outside food and beverage are not permitted in the Fourstardave Sports Bar.

If you want a seat in either the Grandstand or the Clubhouse, or if you want to reserve a picnic table, reserved seating tickets must be purchased. (See below for more information).

What is the cost of admission?

General admission (Grandstand entrances on Union and Nelson Avenues) is $5.00. Clubhouse admission (Nelson Avenue only) is $8. On Travers Day, the price changes to $10.00 for General admission / Grandstand and $20.00 for Clubhouse admission. Children 12 and under are free every day throughout the meet when accompanied by an adult.

(Note: if you pay general admission, then decide that you want to go into the Clubhouse: walk to the booth marked "Clubhouse Exchange" near the end of the building that's closest to Nelson Avenue. You'll pay the extra few bucks admission difference, and get your hand stamped for Clubhouse access.)

Note: Admission does NOT grant you a seat - you must purchase reserved seating separately or in advance through Ticketmaster or by phone.

How can I purchase reserved seating?

Reserved seating can be purchased online in advance at Ticketmaster.com (these prices include admission), by phone at 1-844-NYRA-TIX or purchased on the day of without the cost of admission (subject to availability). Sales for current day begin at 9 a.m. at the Reserved Seat Sales Office, located at Gate A, on Union Avenue (7 a.m. on Travers Day). Closed Tuesdays. There is a limit of four (4) seats per person. Cash, American Express, Visa and MasterCard are accepted. (Please note: Travers Day seats sell out very soon after they go on sale, usually a month prior to season start.)

How do I make restaurant reservations?

Is there a Will Call Box Office where I can leave tickets for friends to pick up?

Yes, there are three Will-Call pick-up stations at the race course: one each for the Clubhouse, Grandstand and Paddock. Call the ticket office at (518) 584-6200 to hold your tickets at a Will-Call window.

Can any picnic areas be reserved?

A limited number of premium picnic tables can now be reserved for every day of the meet, including Travers Day tables, which are reserved via a drawing in May. If you're up for the 7:00 AM dash, it is tradition to "claim" a table by throwing a tablecloth over it. Most track patrons honor this informal "reservation" practice, but NYRA security will not enforce should any disputes arise.
Special Events & Giveaways
What are the giveaways for 2016?

There are several giveaway days throughout the Saratoga meet each year. On these days, you are entitled to a free promotional gift with purchase of general admission while supplies last. (Coupons for giveaways are not given at the Clubhouse entrance.) NYRA typically reveals the giveaways a few weeks before the Saratoga meet's Opening Day. Watch this site for the update-we'll tell you the giveaways as soon as we have the info.

These promotions range from ball caps and t-shirts to coolers, umbrellas and more. Every year, there is a different lineup of giveaways. See this year's Giveaway Days >>

As part of the 2016 Season Perks program, season pass and season ticket plan holders are guaranteed a premium Saratoga giveaway item on each giveaway day, as long as they are in attendance at the Race Course and redeem the giveaway item by 3:00 PM. Redemptions will begin when the gates open to the general public.

When are season special events dates and details usually announced?

Each summer the Saratoga Race Course hosts family fun and special events. Racing dates like Opening Day, Travers, Closing Day etc. are usually announced by late February, while special event dates and details, like the Hat Day and Fabulous Fillies Day etc, aren't announced until mid to late June. Please Note: our pages will be updated as soon as information is released.

What is steeplechase racing in Saratoga?
Facility Questions
Is there any air-conditioning?

Two locations are climate controlled:

The At-the-Rail Pavilion
The luxury suites. The luxury suites offer the ultimate level of comfort and privacy in Saratoga Race Course. These climate-controlled units offer intimate views of the racing action and are ideal for corporate or social entertaining. They're positioned at the Clubhouse turn, and-being glass-enclosed-it feels like the horses are running so close that you can touch them. Luxury suites feature private betting windows, monitors, restrooms, theater style seating, dining/bar options and a rooftop observation deck. NYRA's Group Sales team has created wonderful menu options for you and your colleagues, family or friends. These suites are available for groups of 62 maximum, but some individual seats may be available, depending on the day. Individual seats cost between $50 and $350. Day and week of event determines cost of individual seats. For more information contact Group Sales at 844-NYRA-TIX. ('site: www.nyragroupsales.com) Prices and availability may vary.

Is there any Internet connection available at the track?

Yes, there is FREE Wi-Fi at the track

Are there designated handicapped seating areas, services and parking?

NYRA provides areas that are designated for wheelchairs. These spaces are in the Clubhouse within sections J, K and L with a complimentary viewing area in Section M. The Grandstand has spaces within sections X and Y. One person may accompany and sit with the handicapped person in these areas. All NYRA lots have handicapped accessible parking spaces available.. (A license plate, sticker or other handicapped-parking permit, hanging from rear-view mirror-the standard documentation of the need--is necessary to use these spaces.) You can also bring your service animal. No motorized vehicles or scooters available for rent at the Race Course, so any desired arrangements for such services must be made separately. To access higher grandstand and clubhouse seating, there is an elevator in the center of the clubhouse elevator and a service elevator located near the top of the stretch.

How long is the Saratoga Race Meet?

The 2016 racing meet is 40 days long, six days a week, from Friday, July 22 through Labor Day, which is Monday, September 5. Tuesdays are called Dark Days, as there's no racing.
Contact Info & Employment
For information prior to the season, call (718) 641-4700 or (516) 488-6000 or visit NYRA.com. For information or questions during the Saratoga Racing Season, call (518) 584-6200. For questions, comments or suggestions about this website, please use our contact form.

How do I get a job at a racetrack in Saratoga?

NYRA holds a series of Job Fairs prior to each racing season to fill open positions at Saratoga Race Course. If you missed the job fairs but still want to apply, call the NYRA HR department at (718) 659-3550 from 9AM - 5PM or email saratogajobs@nyrainc.com.
Attire & What's Allowed
What should I wear?

There are different dress code policies, depending on where you are enjoying the races at Saratoga Race Course. Here's a quick reference guide:

Paddock Saddling Area and Winner's Circle
No shorts or abbreviated wear permitted.
Gentlemen: collared shirts required.

Box Seat Area
Gentlemen: suits or sports jackets required. Ties not required. No jeans or shorts.
Ladies: dresses, skirts or slacks. No jeans, shorts or abbreviated wear permitted.

Luxury Suites
No abbreviated wear permitted.
Gentlemen: no tank tops
Proper attire is determined at management's discretion.

Clubhouse
No short shorts, cut-offs or abbreviated wear permitted. No tank tops.
Proper attire at management's discretion.

Grandstand
Shirts and shoes required.

Dining Areas:

Turf Terrace
Neat Casual Attire
No jeans, shorts or abbreviated wear permitted.
Gentlemen: collared shirts required.
Management reserves the right to use its discretion to determine Neat Casual Attire.

At the Rail Pavilion, The Porch, Club Terrace and the Carousel Restaurant
Gentlemen: no tank tops.
No short-shorts, cut-offs or abbreviated wear permitted.
Proper attire is determined at management's discretion.

See a visual guide to dress codes at Saratoga Race Course >>

Are dogs allowed at the Race Track?

No pets of any kind are allowed at the track, except service animals, which are those necessary for medical purposes (ie. seeing-eye dog). (This is a practical rule: safety first is essential. NYRA needs to assure the comfort and safety of everyone involved, horses and humans.)

Are coolers permitted?

Coolers are permitted on the trackside apron, the Top of the Stretch and backyard picnic area, only. Coolers are not permitted anywhere inside the building. ALL GLASS CONTAINERS ARE PROHIBITED: you may bring in plastic bottles and cans, only. Coolers are subject to search by NYRA security.

Coolers are not allowed in the Clubhouse, but lunch-sized, soft-sided bags are. As with coolers, bags are subject to search.

On Travers Day Saturday, August 27 no coolers will be allowed in the Clubhouse or on the apron larger than 12-by-18 inches.

Are grills permitted in the picnic area?

No. The use of small propane grills and charcoal grills are NOT permitted in the picnic area or any other area within the track. Patrons can rent a Top of the Stretch picnic area through the Group Sales Department: 1-844-697-2849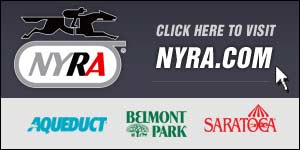 QUICK Links
SARATOGA Racetrack Info
Opening Day: Fri, July 21, 2017

Travers Stakes: TBA

Final Stretch Weekend: Sept 2 - Sept 4, 2017

Closing Day: Mon, Sept 4, 2017



For information prior to the season: (718) 641-4700 or (516) 488-6000