One of the biggest days at the track is coming up this Saturday – are you ready? Travers Day is Saturday, August 26th, and it's going to be a blockbuster day with six Grade 1 races, a freefall demonstration from the United States Military Academy Parachute Team, and more exciting happenings. Check out what's happening on Travers Day, and also the rest of the week.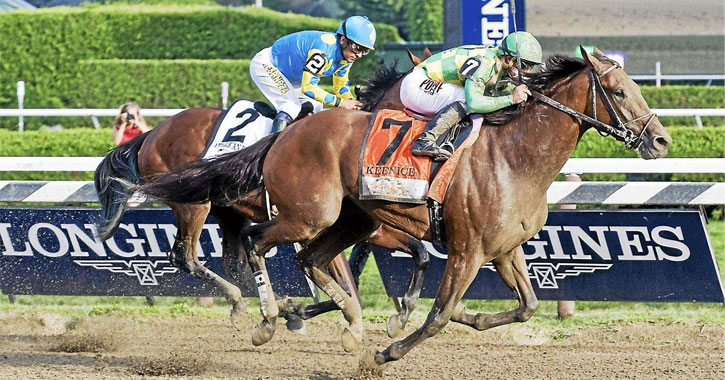 Get Your Travers Tickets
Grandstand admission tickets for Travers Day are available in advance for $10, or can be purchased the day of for $15.
Tickets can be purchased online at TicketMaster.com, through the NYRA XP app, or in person at the NYRA Box Office at the Saratoga Race Course.
Paid admission will be capped at 50,000 for the safety and comfort of guests. All guests are subject to enhanced screening upon entering the grounds, and will not be allowed to run once inside the property, again for everyone's safety.
There is also a strict limit of one table per person that can be reserved in the backyard. Re-selling of picnic tables is not allowed.
Saratoga season pass holders are guaranteed admission on Travers Day.
All reserved seats, dining, and hospitality are sold out.
What to Expect at Travers Day
The gates will open at 7am with a special post time of 11:35am. The Grade 1, $1.25 million Travers will be one of six Grade 1 races in the afternoon.
The field is expected to be led by Kentucky Derby winner Always Dreaming, Preakness winner Cloud Computing, and Belmont Stakes winner Tapwrit – this is the first time since 1982 that the individual winners of all three Triple Crown races will meet at the Travers.
The other five Grade 1 stakes are: $1 million Sword Dancer Invitational, $500,000 Ketel One Ballerina, $600,000 Forego, $500,000 H. Allen Jerkens Memorial, and $700,000 Personal Ensign. There will also be the Grade 2, $400,000 Woodford Reserve Ballston Spa.
The Travers will be the final leg of a $1 million guaranteed Pick 4 and will also be part of the NYRA Best Late Pick 5, which is only available to NYRA Bets members and to bettors in New York wagering on-track or through a simulcast facility.
NYRA Bets members are eligible for a guaranteed $300,000 payout on Travers Day if they wager using NYRA Bets and are the single-ticket winner of the NYRA Bets Late Pick 5.
Cadets from the United States Military Academy Parachute Team will perform a prevision freefall demonstration. They'll parachute onto the outer turf course from a helicopter that will be approximately 3,500 feet above the Saratoga infield. This is happening at 4:25pm, weather permitting, with a practice jump happening at 10:15am.
Taste NY: Food, Artisans & Craft Beer will be going on at Travers, where guests can sample and shop New York food and crafts and enjoy craft beer samples from local breweries.
The Backstretch Employee Service team will be showcased at the Community Outreach Booth. Spa Mirbeau is offering chair and hand massage services for guests – in lieu of fees, they ask that guest contributions be donated to the Backstretch Employee Service Team.
The Ketel One Party at The Post is happening in the evening with a DJ, cocktail samplings, and giveaways.
What's Happening This Week
You don't have to wait for Saturday to get in on exciting action at the track! Here's what's happening over the next few days:
Thursday, August 24
The day's featured race will be the Grade 1, $150,000 New York Turf Writers Cup, a steeplechase race for four-year-olds and up. The day will also be anchored by the $100,000 Riskaverse for three-year-old fillies.
Chef Julie Ann Sageer, host of Cooking with Julie Taboulie on PBS, will be on site signing copies of her new cookbook. The cookbook will also be available for sale.
Taste NY: Cider, Wine & Spirits will also be going on, with samples of wine and spirits available at five samples for $5. This is happening at the Berkshire Bank Saratoga Pavilion from 12pm to 5pm.
The Saratoga Automobile Museum will be heading up the Community Outreach Booth.
It's Tequila & Taco Thursday, when guests can enjoy specials on margaritas and tacos at The Post as well as a live flamenco guitar performance after the final race.
At the Post Live will be happening in the evening, from 8pm to 9pm, at The Parting Glass with host Andy Serling.
Friday, August 25
There will be six featured stakes races worth more than $1.1 million in purses exclusively for New York-breds, including the West Point, the Albany, Fleet Indian, Funny Cide, Seeking the Ante, and the Yaddo. Travers Eve will be dedicated to New York-breds.
The Red Jacket Ceremony will be taking place this day, as three-time Eclipse Award-winning jockey Ramon Dominguez is inducted into the Saratoga Walk of Fame. The ceremony is taking place adjacent to the winner's circle after the day's fifth race at approximately 3:30pm.
Taste NY: Craft Beer will be happening on this day, when guests can sample five craft beers for $5 at the Berkshire Bank Saratoga Pavilion from 12pm to 5pm.
The Saratoga County Economic Opportunity Council (EOC) will be at the Community Outreach Booth hosting a food and essential goods drive from 11am to 5pm. Fans are invited to donate canned or nonperishable goods.
The fun continues after the races with Woodford Reserve Fridays at The Post, a bar and entertainment spot adjacent to the paddock. Enjoy a DJ, dancing, cocktail samplings, and trivia.
After Travers
The racing season continues through Labor Day, Monday, September 4th. Here's what's happening in the days following Travers:
Sunday, August 27
The day's featured race will be the $100,000 Smart N Fancy for three-year-old and up fillies on the turf.
The Low Roller Challenge will be going on, which allows aspiring handicappers the chance to experience tournament play for $40, with $30 going towards the live bankroll and $10 to the prize pool. Registration starts at 11am near the Fourstardave Sports Bar.
Taste NY Food and Artisans will be happening this day, where guests can shop and sample New York food and crafts at the Berkshire Bank Saratoga Pavilion from 10:30am to 5pm.
Track-goers can also check out the Ketel One Kitchen and sample Ketel One and club soda cocktails crafted with produce and herbs near the Fourstardave Sports Bar from 1pm to 5pm.
The Community Outreach Booth will be highlighting the Center for Disability Services.
Monday, August 28
The day's featured race will be Better Talk Now for three-year-olds at a mile on the turf for a purse of $100,000.
Mondays are Berkshire Bank Family Mondays, when kid-friendly games and activities will be going on at the Berkshire Bank Saratoga Pavilion from 11am to 4pm. The first 500 kids ages 12 and under visit the Pavilion will receive a free drawstring bag filled with school supplies.
This day will include the continuation of the Low Roller Challenge.
The Troy Boys & Girls Club will be at the Community Outreach Booth.