Carson's Woodside Tavern
Malta, NY
Carson's Woodside Tavern! Fun, friendly bar; cozy, inviting dining room, and outdoor deck featuring a spectacular view of Saratoga Lake and the Vermont mountains. Sit back, relax, enjoy the view and stay awhile! Only 7 miles from Saratoga Springs!
Nostalgia Ale House & Wine Bar
Malta, NY
With a wistful affection of the past, Nostalgia brings you back in time with their atmosphere, music, bar, and menu. Views overlooking the lake, fire rings in summer and winter, daily specials, OPEN ALL YEAR and NOW SERVING LIQUOR!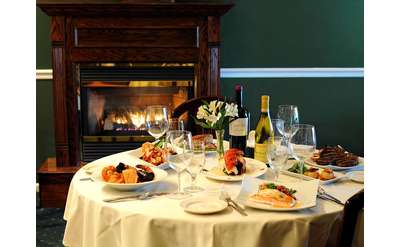 Lake Ridge Restaurant
Round Lake, NY
Only minutes away from Saratoga Lake, we're the food critics' choice (4.5 out of 5 stars), offering first-rate Continental cuisine in an elegant setting. Exceptional food, great prices and friendly service will keep you coming again and again.
The Boardwalk Restaurant & Marina on Lake George
Lake George, NY
The Famous Boardwalk Restaurant and Marina in Lake George Village offers dining downstairs for dinner with full menu, and open-air deck with lighter fare, and a boathouse deck from where you can have your drink and enjoy the beauty of Lake George