Parking at the Saratoga Race Course
Driving to (or even just past) the track nearing post time can get a little chaotic, so we've put together some tips and tricks for finding the best (and least expensive) parking at the Saratoga Race Course.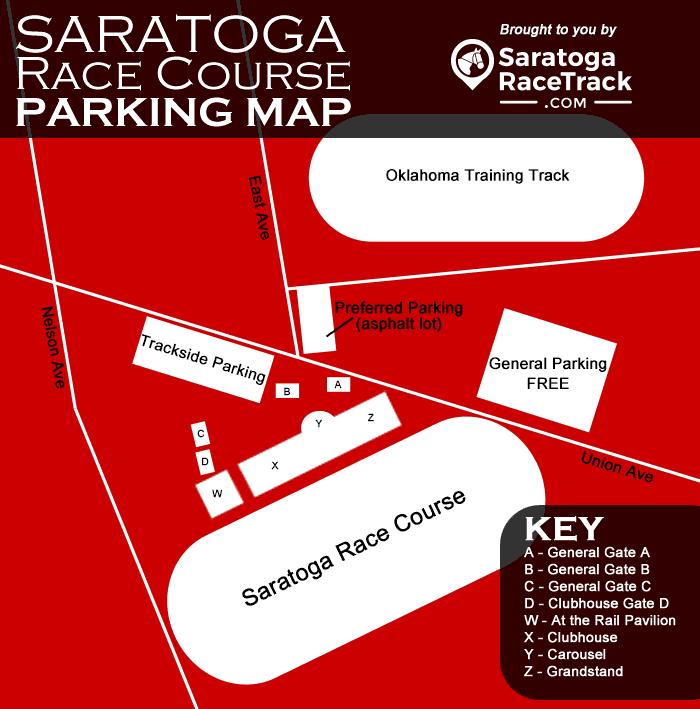 Where to Park at the Saratoga Race Course
General Parking: Free!
Free every day, the general parking lots are located off Union Ave. Expect a long walk to the track and difficulty finding spots on popular race days.
Oklahoma Side Parking: Preferred East, Madison, and the Rec Hall
$10 weekdays (M, W-F)
$12 weekends (Sat & Sun)
$15 for Whitney and Travers Stakes
Trackside Parking: Union Ave
$12 weekdays (M, W-F)
$15 weekends (Sat & Sun)
$20 for Whitney & Travers Stakes
Lawn Parking: Various lawns and lots on surrounding streets
Many residents offer lawn parking for a fee. These spots are often your best bet and make it easier to get out after racing is over.
Handicapped Parking: All NYRA lots (General, Oklahoma, and Trackside)
All NYRA lots at the track have accessible parking available for guests with disabilities. These spaces are designtated for vehicles displaying a current state-sissued disability placard or license plate.
Valet Parking
There is limited daily valet service available at the Clubhouse Gate off Nelson Ave. Enter through the Main Gate or the Ludlow Gate off Union Ave and proceed to the Clubhouse Circle.
$32 weekdays (M, W-F)
$45 weekends (Sat & Sun)
$50 for Whitney & Travers Stakes
Tips & Tricks for Parking at the Track
1. Know your options
You can park at the track in one of several different lots, or plenty of people open up their yards or parking lots for a fee during track season. The closer you get to the track, the more you're going to pay.
2. The early bird gets the parking spot
The earlier you get to the track, the better your parking experience will be.
3. If you see something, say something
Parking is at a premium, especially on popular race days. This is not a time to hunt around for a better parking spot. If you see something, say something to the driver and take it!
4. Keep an eye out for pedestrians
We're all guilty of being a clueless pedestrian every once in a while. There will be lots of people (and small children!) walking around near the track. Be vigilant not just about looking for parking spaces, but also about keeping an eye out for little ones chasing a ball, or older ones with their noses in their phones.
5. Skip the car wash
Most of the parking is on dirt, grass, or gravel, so bring your car with more clearance and don't bother washing it before you head out to the track.
6. Take the CDTA Trolley or park downtown and walk
The track isn't that far from Broadway (a little over a mile), and we highly recommend parking downtown and taking the trolley or walking to the race course. Not only will you not have to worry about the traffic by the track, but you won't have to hunt for a spot downtown after races are over for the day!