Clubhouse Breakfast at the Track
Every racing day during the Saratoga meet you can have breakfast on The Porch of the Clubhouse at the Saratoga Race Course and watch the horses work out!
This uniquely Saratoga experience is not to be missed, and we highly recommend taking breakfast at the track at least once this summer!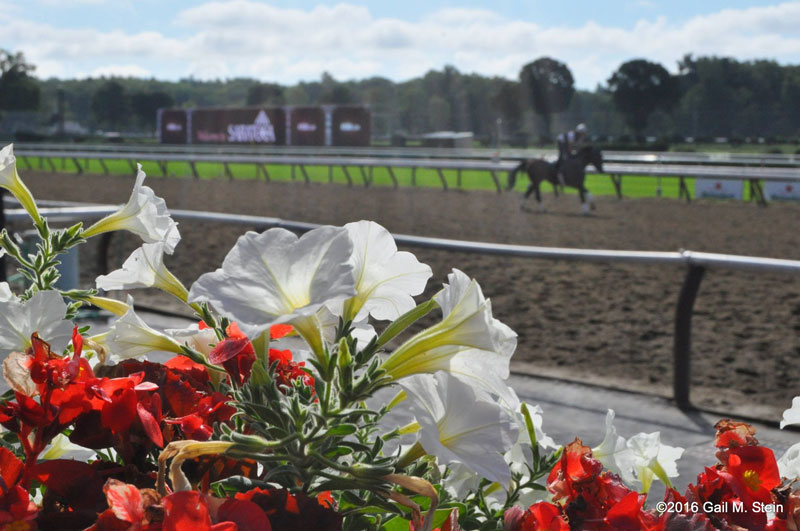 About Breakfast on the Porch
7:00 - 9:30 am, racing days, on the Clubhouse Porch
Cost: $17.95 for adults; $9.95 for children 12 and under
Reservations: For more information and reservations, please contact NYRA Dining at 888-516-NYRA (6972) or by emailing dining@nyrainc.com
Parking: There is a fee for trackside parking, but this fee is refundable if you leave before 10 am.
Frequenly Asked Questions about Breakfast at the Track
Do I need reservations?
Not necessarily, but breakfast is first-come, first-served, so we recommend calling ahead!
Do I need to buy breakfast to watch the work outs?
No! The track is open to the public prior to 10 am and you can watch the workouts without paying for breakfast.
If I buy breakfast, does that include my admission to races for that day?
No, unfortunately not. The track will be cleared prior to the start of racing and you will need to pay Race Course admission on re-entry for the afternoon races.
Are there tours included with breakfast?
The walking tours of the track are not included, but they're also very affordable! For only $3 per person or $10 per family you can get a historical overview of the track and learn about the property highlights. Stable tours are free and depart from the main Clubhouse entrance, leaving approximately every 15 minutes between 7:30 and 9 am.